National Council is a biennial multi-day event for state League leaders. This event offers opportunity for training, networking, and discussing current and future League work and priorities. 
The 2021 Council will be a virtual event themed around Building Our Power Together. Attendees will spend four days in a variety of small group and large group events centered on our power as individuals, an organization, and with our communities.
Who Is Invited: 
Council is intended for state-level leaders and each state is invited to bring up to four leaders. Under special circumstances local League leaders may be permitted to attend and we ask that you contact us before registering those individuals. 
There will be special opportunities for League staff members and new or emerging leaders to interact and we encourage Leagues to consider inviting any member of your League that fits either of those criteria. 
When:
June 24–June 27. All sessions will be conducted over Zoom and will include live and pre-recorded sessions. Register by June 7.
Registration fee:
$150/person. This fee provides full access to all Council sessions, the Council platform, and all supplemental materials provided during sessions.
New Features:
As part of our commitment to providing a fully engaging and comprehensive virtual event experience, we are pleased to offer the following. More information and access links to all of the below are included in your Council registration confirmation email, and we encourage you to carefully review this confirmation email: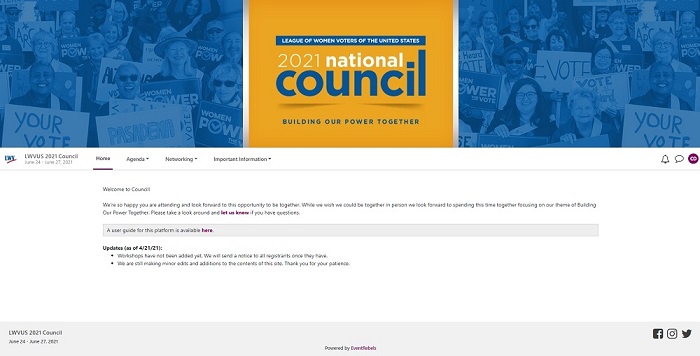 A virtual Council platform: This platform will offer an interactive agenda with session descriptions and materials, updates on sessions and what to expect, and opportunities to connect with your fellow attendees.
A Council mailing list/email discussion group: Attendees will receive access to a mailing list/discussion group where they will be invited to interact with their fellow attendees in the weeks leading up to Council. 
Council cohorts: Similar to tables at our in-person Council, all attendees will be assigned to a cohort. This cohort will be your group during all breakout sessions, and we will offer two pre-Council opportunities to meet them as well as dedicated mailing lists for each cohort to continue their interactions outside of Council sessions. Cohort assignments will begin in early June, and we ask that you register before then.
Related Content
In 2021 state leaders are invited to attend National Council. This will be an opportunity to network and engage on relevant League issues with your fellow state leaders, the LWVEF/US , and national staff. 
Due to the ongoing COVID 19 pandemic the 2021 Council will be a virtual event. 
Council will be held virtually from June 24-27, 2021.