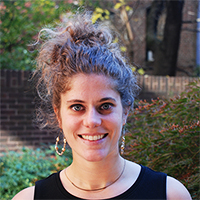 Alicia Gurrieri is the Organizing Manager for the League of Women Voters where she is building people-powered campaigns with League affiliates to create a more perfect democracy.
After graduating from Northwestern University in 2013, Alicia became a Health Educator with the South Jersey AIDS Alliance, providing one-on-one and group behavioral intervention counseling to people living with HIV. After seeing firsthand the positive impact New Jersey's Medicaid expansion had on its residents, she moved into the policy advocacy space by joining the National Women's Law Center's Reproductive Rights and Health team.
Alicia uses her masters in Political Management to serve the League's mission , and help grow skills in the field including by developing and leading a variety of trainings.