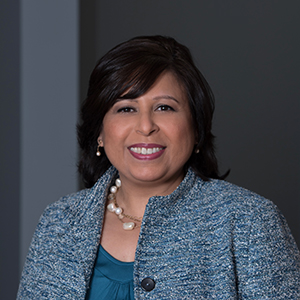 Anisa S. Tootla is the Chief Operating Officer of the League of Women Voters of the United States. Anisa has over twenty years of non-profit management and social impact programming experience. She is skilled in leading organizational growth and change and has led a wide range of functions that have enhanced the development, quality, and sustainability of domestic and international organizations.
Prior to joining the League in 2014, Anisa spent nearly twelve years at AARP Foundation in a variety of roles, most recently as vice president of programs in which she led the creation and development of AARP and AARP Foundation's work on hunger and its 'Drive to End Hunger' campaign, aimed at solving the issue of senior hunger in America. Prior to her VP role, Anisa served as senior director of strategy and operations, where she worked hand in hand with the President of AARP Foundation in the strategic repositioning of the organization, including identification and development of a new vision, mission, and impact areas.
Anisa is a graduate of DePaul and Johns Hopkins Universities and holds a Bachelor of Arts in International Studies and a Masters in Business Administration.