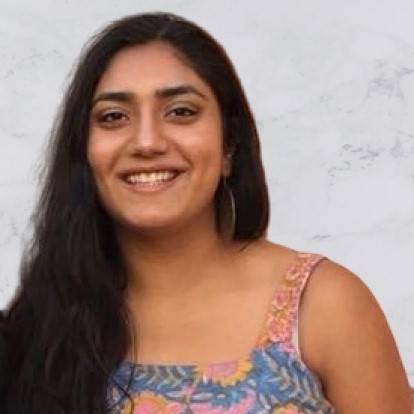 Samyuktha Mahadevan is the Campaign Organizer for the League of Women Voters, where she is primarily focused on the League's redistricting campaign, People Powered Fair MapsTM.
Samyuktha grew up outside of Charlottesville, Virginia, and graduated from the College of William & Mary with a degree in International Relations. During her time in Williamsburg, she focused intently on community service and civic engagement, from volunteering with underprivileged children to raising awareness for gun violence prevention. Throughout college, Samyuktha conducted research on rhetorical trends in Congressional debates and news media. In 2017, Samyuktha spent much of the year in legislative spaces, interning in Senator Mark Warner's office in D.C. and in the office of (now) Shadow Chancellor Anneliese Dodds in London.
Her first foray into campaigns was volunteering for Leslie Cockburn in 2018, during which time she fell in love with organizing. After graduating, she was a field organizer for Senator Elizabeth Warren's presidential campaign in Henderson, Nevada from June 2019 to March 2020. Samyuktha is passionate about fighting government corruption and advocating for diversity and equity in political spaces.
In her spare time, Samyuktha enjoys playing the piano, watching movies and TV, quality FaceTimes with friends and family, and staying physically active.