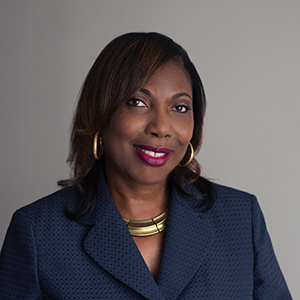 Wylecia Wiggs Harris is the Chief Executive Officer for the League of Women Voters of the United States and the League of Women Voters Education Fund. In this role, Wylecia oversees the day to day operations of the LWV national office and executes the strategic priorities established by the national Board of Directors.
A firm believer that individuals and organizations need to continual grow and evolve, Wylecia holds a PhD in organizational development from Capella University in Minneapolis, Minnesota; a master of management degree from Northwestern University in Evanston, Illinois; and both a bachelor and honorary doctor of humane letters degree from Wittenberg University, in Springfield, Ohio. She is an ASAE-certified executive director and certified facilitator for leadership assessments through the Center for Creative Leadership.
Wylecia has a demonstrated track record in building strong, high performing teams, creating strong partnerships and effectively leveraging human and financial resources. With over 35 years in nonprofit management, she loves the diversity of experience offered by nonprofit organizations and the passion of the League members and our allied partners in support of a strong democracy.
Wylecia's spare time is spent with family, engaging in church activities, reading and taking care of her dog, cat and three parakeets.