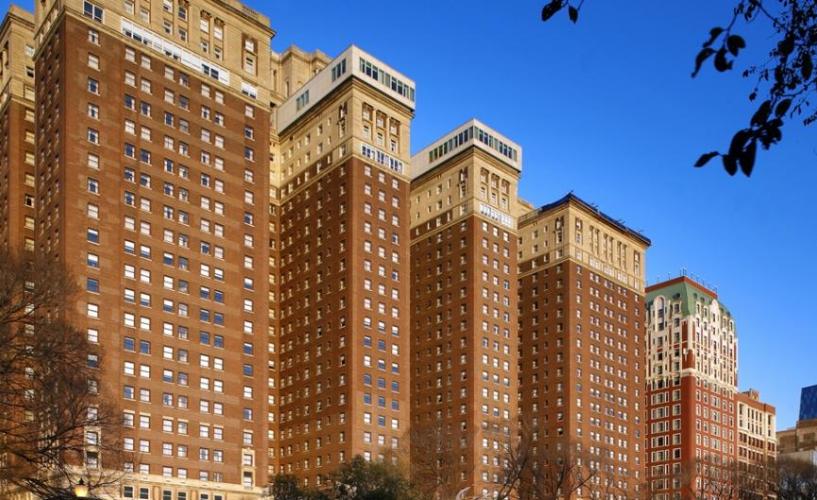 The Hotel, built in the Beaux Arts style, opened in May 1927 as the Stevens Hotel. At its opening, it was the largest hotel in the world, with 3,000 rooms.
The developers were the father and grandfather of former Supreme Court Justice John Paul Stevens.
Following the Great Depression, the hotel went bankrupt and was bought by the US Army to use as classrooms and barracks for the Army Air Force during WWII.
After the War the hotel was bought by Conrad Hilton.  Among improvements was the installation of a large ice stage in the Boulevard Room Supper Club which began featuring elaborate ice shows in 1948.
In 1951, crowds gathered to hear a speech by General Douglas MacArthur defending his conduct of the war in Korea, calling for a new American policy toward the conflict.
During the 1968 Democratic National Convention, the parks outside the hotel were the scene of a police riot as antiwar demonstrators, being beaten and arrested, took up the chant, "The whole world is watching." Some protesters escaped into the hotel, along with tear gas and "stink bombs", and the hotel suffered minor damage as a result.
In 1984, the hotel closed for what was then the most expensive hotel renovation ever, at $185 million. Its 3,000 guest rooms were rebuilt into 1,544 larger and more elegant rooms, a rebirth that helped to sustain a revival period in Chicago's South Loop neighborhood.
Many of the hotel spaces are instantly recognizable as settings of movies and television shows including Empire, Home Alone 2, The Fugitive, and My Best Friend's Wedding.
The hotel has hosted all US Presidents…AND
In the mid-1990s it was the site of the LWVUS National Convention!
For more history, see www.historichotels.org/hotels-resorts/hilton-chicago/history.php.