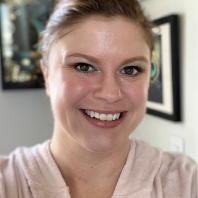 Alexis Juday-Marshall joined the League of Women Voters in late 2018. During her time in the Washington State League, Alexis was a member of the Observer Corps which presented an opportunity to see government in action and to promote transparency and accountability in government processes. As a climate action guide and co-chair of the Environmental Committee of King County/Seattle, she collaborated with other members as well as local officials to increase public engagement on climate change matters. She also served as a Delegate for the LWVUS for the United Nations Climate Change Conference (COP26) in Glasgow, Scotland. As a member of the Washington State DEI Working Committee, she helped update LWV policies, programs, and positions that were serving as barriers to participation by persons from under-represented groups as well as identifying diverse nonpartisan organizations with similar goals in hopes of working in partnership with those organizations. 
Originally from Portland, Oregon, she recently relocated to Los Angeles after living in Seattle for 23 years. Alexis has been passionate about effecting social change, earning both her bachelor's and master's degrees from Seattle University in Journalism and Public Administration, respectively. She recently finished her MPA, which focused on issues of inequity and systems change in voting rights, transportation policy, and climate change. The title of her master's thesis was "Addressing the Climate Change Crisis: Indigenous Perspectives for Environmental Justice." 
As a social justice fellow for Adasina Social Capital, she works with a Social Justice Strategy Team to create financial products and strategies that integrate social justice goals into public market investments and support social justice movements. 
In her free time, Alexis engages in advocacy and nonprofit volunteerism and loves to spend time with her partner and her dog, Nugget. She also enjoys traveling, reading, and cooking and is an avid sports fan and animal enthusiast.