middle-center
Who Is the League of Women Voters? 
The League of Women Voters (LWV) is a nonpartisan, grassroots nonprofit dedicated to empowering everyone to fully participate in our democracy. With active Leagues in all 50 states and more than 750 Leagues across the country, we engage in advocacy, education, litigation, and organizing to protect every American's freedom to vote. 
Founded in 1920, the League was a merger of the National Council of Women Voters and the National American Women's Suffrage Association. Referred to as a "mighty political experiment," it aimed to help newly enfranchised women exercise their right to vote. Learn more about our history. 
Today, the League has expanded our vision of a more inclusive democracy where all Americans, regardless of gender, sex, race, ability, or party can see themselves represented in our government. To build this vision, we bring an anti-racist, social justice lens to the issues of: 
Additionally, we promote social and economic justice through the lenses of health care, the environment, immigration reform, and the Census. 
750+ Leagues 
across the US
500k+
members & supporters
6 million voters
reached in 2020
100s 
of voting rights victories
To become a League member, join one of the 700+ state and local Leagues.
Our Branches 
LWVUS: The League of Women Voters of the United States encourages informed and active participation in government, works to increase understanding of major public policy issues, and influences public policy through education, and advocacy. 
LWVEF: The League of Women Voters Education Fund works to register and provide voters with election information through our election resource VOTE411.org, candidate forums, and debates. 
Mission, Vision, and Value 
Mission: Empowering voters. Defending democracy. 
Vision: We envision a democracy where every person has the desire, the right, the knowledge, and the confidence to participate. 
Value: We believe in the power of women to create a more perfect democracy.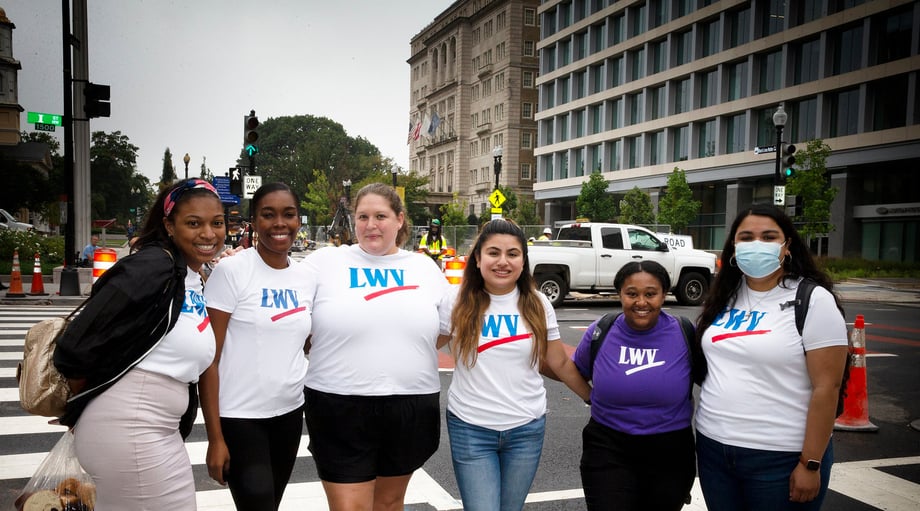 Our Team 
The LWVUS staff and board are comprised of activists, organizers, creators, speakers, analysts, lawyers, experts, and everyday Americans dedicated to uplifting every voter's voice. Learn more about our national staff and the members of our Boards. 
We'd love to have you on our team as a staff member or intern.  
Our Foundational Principles
Nonpartisanship
The League shall not support or oppose any political party or any candidate.
To learn more about our nonpartisan stance, read this blog post from LWVUS CEO Virginia Kase Solomón.
Diversity, Equity, and Inclusion 
LWV is an organization fully committed to diversity, equity, and inclusion in principle and in practice. Diversity, equity, and inclusion are central to the organization's current and future success in engaging all individuals, households, communities, and policymakers in creating a more perfect democracy. 
There shall be no barriers to full participation in this organization on the basis of gender, gender identity, ethnicity, race, native or indigenous origin, age, generation, sexual orientation, culture, religion, belief system, marital status, parental status, socioeconomic status, language, accent, ability status, mental health, educational level or background, geography, nationality, work style, work experience, job role function, thinking style, personality type, physical appearance, political perspective or affiliation and/or any other characteristic that can be identified as recognizing or illustrating diversity. 
* 
LWV es una organización totalmente comprometida con la diversidad, la equidad y la inclusión en principio y en la práctica. La diversidad, la equidad y la inclusión son fundamentales para el presente y futuro éxito de la organización en la participación de todas las personas, hogares, comunidades y políticos en la creación de una democracia más perfecta. 
No habrá barreras para la participación plena en esta organización por razón de género, identidad de género, etnia, raza, origen nativo o indígena, edad, generación, orientación sexual, cultura, religión, sistema de creencias, estado civil, estado parental, estatus socioeconómico, idioma, acento, habilidad, salud mental, nivel educativo o antecedentes, geografía, nacionalidad, estilo de trabajo, experiencia laboral, función del rol laboral, estilo de pensamiento, tipo de personalidad, apariencia física, perspectiva política o afiliación y / o cualquier otra característica que identifique, reconozca, o ilustre diversidad. 
Defending Democracy Checklist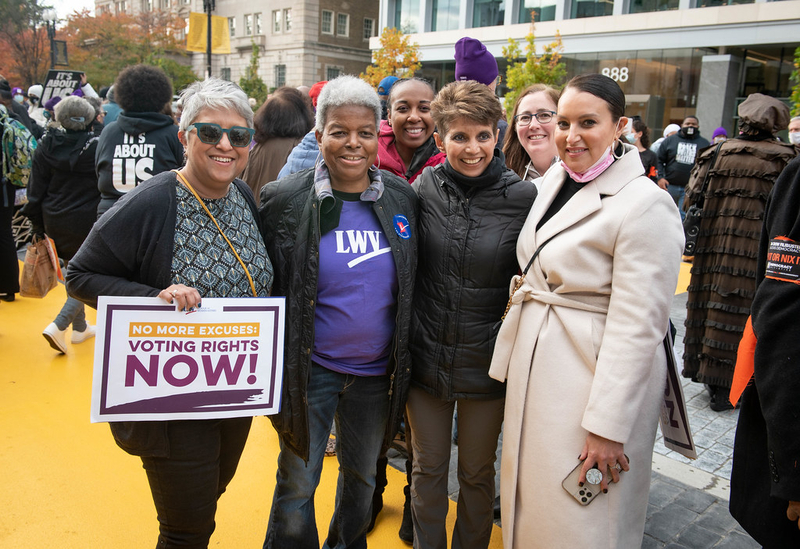 ​​​​​
Spread the word about our work on social media
Stay Updated
Keep up with the League. Receive emails to your inbox!
Donate to LWV
Support our work to empower voters and defend democracy