top-center
Why It Matters
Every eligible voter should have a fair and equal opportunity to register to vote and to cast their ballot. Millions of Americans miss the opportunity to vote because they don't know how to register or they miss their state's deadline.  
What We're Doing
As the nation's largest and longest-standing grassroots voter registration organization, our volunteers register hundreds of thousands of voters and host community voter registration drives across the country each year. We concentrate our registration drives at locations that reach large numbers of unregistered voters, including high schools and community colleges, transit hubs, and naturalization ceremonies. Each year, we also help tens of thousands of Americans register online at VOTE411.org. 
Further Reading: Increasing Voter Registration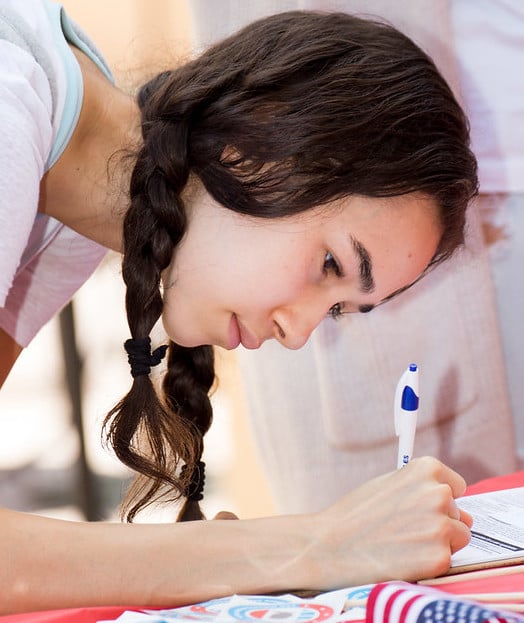 Demand that your senators support bills that make elections accessible to all Americans

Stay up to date on the latest voter registration news by joining our email list

Visit VOTE411 to get registration information for your community
To get involved in voter registration efforts, join one of the 700+ state and local Leagues.
Latest from the League
This year, we've seen firsthand how registering people to vote creates a stronger, more representative America. Americans are taking part in our democracy in full force – and now is our chance to make sure they're ready to vote. 
This segment originally aired on PBS NewsHour.
Organizers on Tuesday took part in National Voter Registration Day, a civic holiday to encourage and register Americans to participate in elections up and down the ballot. The League of Women Voters is one of the largest on-the-ground organizations signing people up. Their president, Deborah Turner, joins Geoff Bennett to discuss the effort amid the 2024 presidential race ahead of key elections.
This story was originally published by The Meridian Star.
September is national Voter Registration Month, and the east central Mississippi chapter of the League of Women Voters is working to help residents register to vote in the upcoming general election. The nonpartisan organization is set to hold several events over the next month to provide residents with information about where to vote, Mississippi's voter ID laws and what rights they have as voters.
Stay Updated
Keep up with the League. Receive emails to your inbox!
Donate and support our work
to increase voter registration