The League of Women Voters Education Fund (LWVEF) has tapped into the power of young people through its Youth Voter Registration project since 2010. In the spring of 2022 alone, 87 League volunteer teams across the country hosted close to 900 events and registered 22,406 youth in high schools, technical schools, community colleges, youth shelters, and at community events like protests, rallies, and festivals. 
"This year, we had students join together to hold events, making it more fun," representatives from the LWV of Marin County shared. "They say they made new friends in the process. Another team of students held a drive that registered 200 students – an unprecedented number!"  
Now, the focus shifts from registration to voter turnout. League volunteers will be mailing, calling, and re-visiting school locations to answer first-time voters' questions and help them make plans to vote. In all, LWV plans to reach more than 6 million voters on VOTE411.org, and millions more through get-out-the-vote (GOTV) initiatives.  
Leagues have found that student involvement is imperative to the success of youth-focused projects and have engaged youth in registering their peers, creating videos and social media posts to educate on voter processes, and even hosting and participating in candidate forums, like in Ashland-Bayfield County, WI. "Concurrent with youth voter registration, we held candidate forums and, for the first time, arranged for student participation," one leader reported. "Students contributed questions ahead of time and worked at the forums collecting participants' questions and serving as timers." 
Innovating Our Outreach 
Leagues are also innovating and expanding their work. LWV of Arlington, VA provided bilingual services to their students this year. According to an Arlington leader, "[w]e registered 40% more students this year than in any previous high school voter registration campaign. We also conducted our first class visit to a first year English as a second language class and presented our material in Spanish."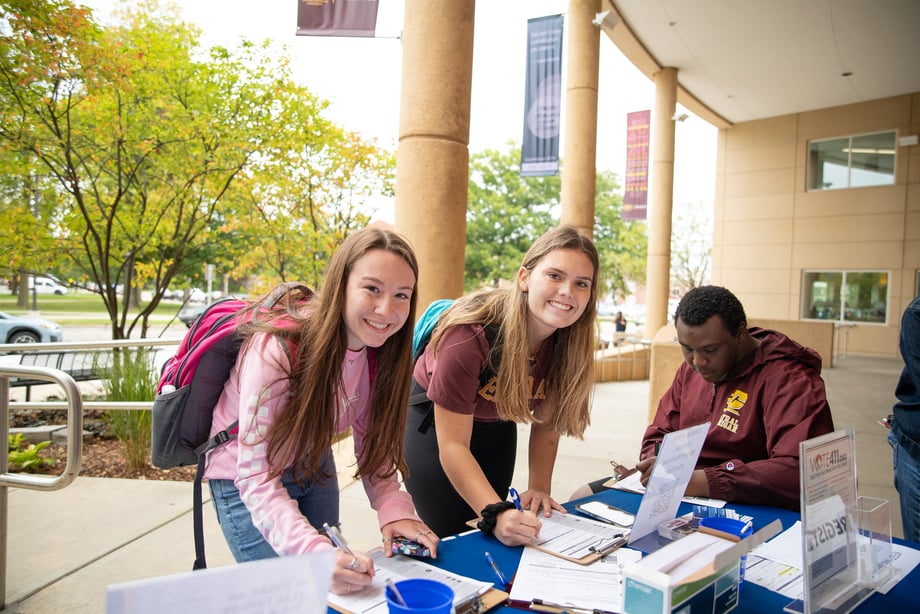 Leagues have also stepped outside of the classroom to reach youth, as in LWV of Greater Omaha. "Our highest turnout for Voter Registration at a tabling event occurred at the Reproductive Rights Rally," the League reported. "This signals that folks who show up to political rallies, especially young people, have a desire to be civically engaged." This take is supported by research, which confirms that issue-based movements can correlate with higher voting.  
Meeting people where they are, such as, in their communities and at events of interest, has allowed Leagues to reach more young people. 
By the Numbers 
1,520 League volunteers participated in this year's project and spent 12,670 hours preparing and executing events, while also providing critical GOTV follow-up for the voters that they registered to encourage turnout. The LWV of Kalamazoo Area, MI reached 555 potential first-time voters with GOTV information—their largest effort ever. Nationwide, Leagues recruited 449 new volunteers through this project, including students.  
"I believe our greatest success was an increase in the active involvement of young people in our efforts, including high school students, college students and sorority members. In addition, we now have 12 new student members," said a representative from the LWV of Harrisburg Area, PA. 
What's Next? 
Beyond 2022, Leagues will continue to make sure youth are informed and involved in civic life. In addition to voter registration, Leagues are focusing their efforts on deepening youth engagement through active participation, such as through a youth council in Maine. "The contributions of young people to our work have been really valuable, from the time and energy they give us to the insights and perspectives they bring in. Maine Students Vote continues to grow and will be hosting a statewide student voting summit in the fall."  
Youth have the power to change our country and believe it is their responsibility to do so, as reported by our partners at CIRCLE. Registering, educating, and involving young people that are newly eligible is important to promote lifelong civic engagement. 
Here's to young people saving the world! 
The Latest from the League
As young adults, we should be at the frontlines in helping decide the path of our country if we're going to make the future our own.
On your way to college this? Congratulations! As you step into this new era of your life, make sure you're prepared to take on your new role as a participant in our democracy.
Are you a first-time voter? Here's everything you need to know about casting your ballot.
Sign Up For Email
Keep up with the League. Receive emails to your inbox!
Donate to support our work
to empower voters and defend democracy.