Casting your first vote is exciting -- and sometimes confusing. But it doesn't have to be.
Follow this easy guide from VOTE411.org to make your first voting experience stress-free and empowering, as it should be.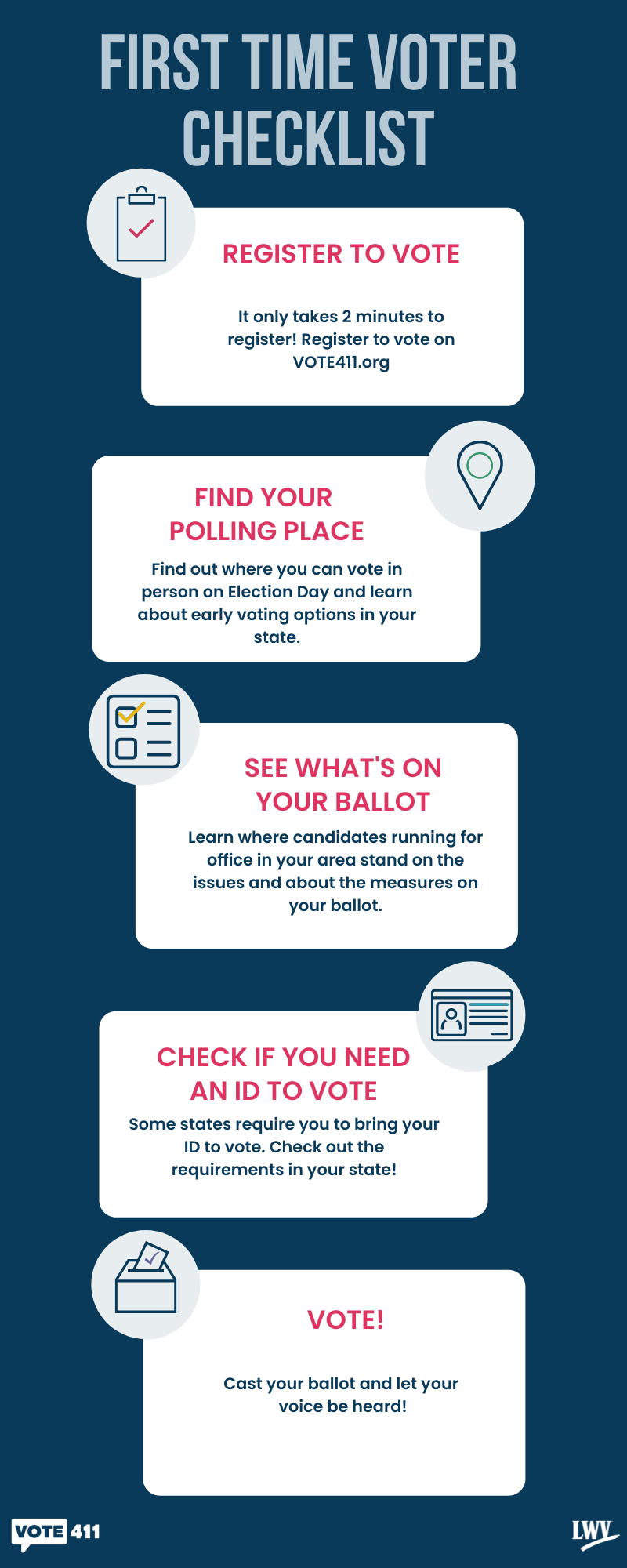 1. Register
Before you show up to the polls, make sure you're registered to vote!
Check or complete your registration at VOTE411.
2. Find Your Polling Place
Every person is assigned a specific polling place based on where they live. Unfortunately, you can't just show up to any polling place to vote, so it's important to know your assigned location.
Look up your polling place.
3. See What's On Your Ballot
You'll probably see a number of issues and candidates on your ballot you may not be familiar with.
Get the information you need with a personalized voter guide.
4. Check ID Requirements
Different states have different ID requirements.
Check if you need to bring your driver's license or another form of ID so you aren't prevented from casting your vote.
5. Vote!
Now you're ready to vote! Make a plan for the day-of, like how you'll get there and what time you'll head to your polling place. Invite a friend to come with you so they can make their voice heard, or share this list with other first-time voters.
And once you're done? Celebrate your participation in our democracy!
The Latest from the League
Since the 2000 Presidential Election, I have been anxiously waiting to get the opportunity to vote. I went as far as creating a mock election ballot for my elementary school for the 2004 Presidential Election to feel like I was contributing to the election in some way.  The 2008 election was the most frustrating for me; I was four months too young to be eligible to vote in California. I knew I would have to wait another four years.
VOTE411.org did more than just help me register to vote. It also gave me the information I needed to vote for the very first time this Election Day.
Our 2016 Youth Voter Registration Program has registered over 4,000 young voters so far! Early data from the Center for Information and Research on Civic Learning and Engagement show that young people are voting in primaries at levels we have not seen for some time.
Sign Up For Email
Keep up with the League. Receive emails to your inbox!
Donate to support our work
to empower voters and defend democracy.