Student loans. 
Protecting the environment. 
Racial justice. 
Affordable housing. 
Reproductive rights. 
Young people's voices must be heard on these issues and more! Our government must represent our needs. 
Casting your vote, especially if it's your first time, can seem complicated. To make it simple, we've compiled some of the most common questions we've received from college and university students.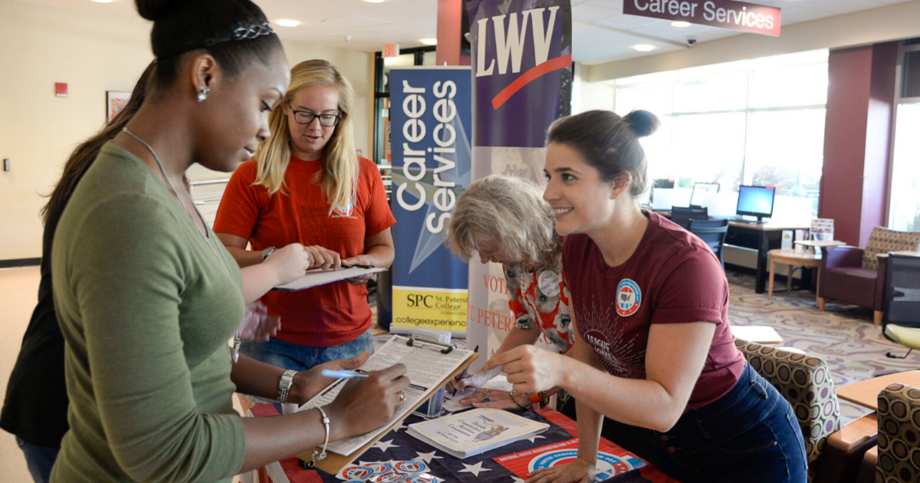 How do I know if I'm registered to vote? If I'm not, how do I register? 
You can check your registration, register for the first time, or update your registration at VOTE411. Many states require you to register to vote several weeks before an election, so be sure to check the deadlines in your state. 
Does my campus have a polling place? 
Many campuses have polling places (where you can vote in person on or before Election Day). Type in your address at VOTE411.org to see where your polling place is and whether your area has early voting options.  
Be sure to type in the address where you're registered to vote (this may be your hometown)! 
I live on campus but use my hometown address for a lot of things. Which address should I register at? 
You can register to vote at whichever address you consider as your residence, and — in states where you must prove residency or domicile — you have the required documents. Click on your state in the map on VOTE411.org and see the section ID Needed for Voter Registration for specific information. If you register with your campus address, be sure to include your dormitory and room number. A PO Box does not count as a residential address.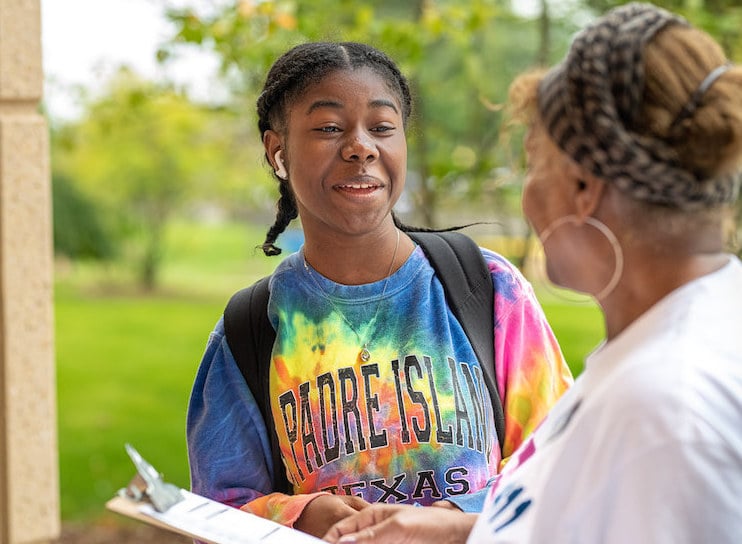 I'm already registered at my hometown address. Should I change my registration to my campus address? 
If you're registered to vote at the address you consider your residence, you're not required to change your registration. If you live at a different address than where you are registered, you must either travel to your hometown or vote absentee (mail ballot) during upcoming elections.
If you consider your campus address your main residence and have the documents required to prove your residence or domicile (if required by your state's rules), you may move your registration to your campus address. If you need to update your registration, be sure to do so by your state's registration deadline! If you register with your campus address, be sure to include your dormitory and room number. A PO Box does not count as a residential address.
Click on your state in the map on VOTE411 and see the section ID Needed for Voter Registration for specific information. 
Can I vote if I don't currently have an address? 
You can still register to vote if you don't have a permanent address! You can use the address of a homeless shelter, street intersection, or public park as your address when you register to vote. 
Can I vote if I am studying abroad? 
Yes! Every state offers a process for Americans abroad to vote by mail. Check VOTE411 for your state's rules on absentee voting and request your absentee ballot by your state's deadline. 
Get involved in your community by joining your local League!
Can I vote somewhere other than my assigned polling place? 
If you plan to vote in person on Election Day, you must vote at your assigned polling place*. 
Many states offer early in-person voting sites, where voters can cast their ballot ahead of Election Day.  
Your state may also offer options to vote by mail (absentee) — be sure to check whether your state requires you to request an absentee ballot by a certain date! There may also be ballot drop boxes in your community that offer a convenient place to deliver your absentee ballot.
Click on your state in the map on VOTE411 for your state's rules on early and absentee voting.
*If you show up to vote and encounter an issue, you still have a right to vote by provisional ballot. Provisional ballots are a way to record your vote even if you encounter an issue, such as voting in the wrong precinct, not having the required photo ID, or having the wrong address listed on your registration.  
How do I find out what's on my ballot? 
Use VOTE411's ballot lookup tool! It will show you all the races on your ballot and all the candidates for each. 
Should I vote in races that don't seem relevant to me, like the insurance commissioner? 
Many races that don't receive much public attention can seem unfamiliar, but that doesn't mean they won't impact you. Local races like city council, mayor, and school board make decisions that can greatly impact your life. To learn about the positions and the candidates, check out your local voter guide on VOTE411.
I'll be out of town/busy on Election Day. Can I still vote? 
Yes! Voting early in person or by mail are options in the majority of states across the country. For specific options in your state, check out our state-by-state guide. 
I don't have transportation. Can I still vote? 
Absolutely! Check to see if your assigned polling place is within walking distance. Early voting sites are also a great option because they tend to be centrally located. Visit VOTE411 to learn about early voting in your state and/or find your assigned polling place. 
Voting by mail is also a great option in many states — just be sure to request your ballot by the deadline if your state requires it!  
Finally, look for rideshare services that offer free rides to the polls on Election Day, like Lyft or local community groups. Your school may offer transportation services just for students casting their ballots. 
I don't have time to stand in line for a long time. How can I make sure I can vote? 
The key to avoiding long lines at the polls is knowing your options. While Election Day is the most popular time to vote, your state likely has early voting and mail/absentee voting options! Check out our state-by-state guide to learn what is available in your state.  
If you vote in person on Election Day, avoid peak hours — like when the polls open, at lunchtime, and after 5pm — for the greatest chance at shorter lines. 
Does my college/university ID work as a Voter ID? 
It depends. Some states have stricter requirements, and some don't have ID requirements for voting at all. Click on your state in the map on VOTE411.org and see the sections ID Needed for Voting and ID Needed for Voter Registration, for your state's ID rules. 
Get LWV Emails
Stay up to date on voting and democracy news!
What should I take with me to the polls? 
You may not need to bring anything to the polls, but to make things easier, you can bring: 
Your ID, if required; or 

A document that shows your address (such as a utility bill, bank statement, or pay stub) if you don't have an ID with your current address; and  

Your printed ballot guide from VOTE411 or other notes about how you plan to vote that can help you stay organized when you cast your ballot.
How can I improve the voting process for students like me? 
Let's be real — some states make it difficult for college and university students to access the vote. They need to hear from you!  
If your campus doesn't host a polling place, lobby your local election administrators and college/university administrators to establish one. If your state doesn't accept student IDs for voter verification, contact your state legislator to let them know how it impacts you and lobby them to change the rules.  
They can only get away with keeping us out of the system if we let them, so let's make sure they know we're watching! 
Can I help with elections without supporting a specific candidate? 
Yes! Your community needs your help. Your local election office hires and trains hundreds of local community members to staff polling places every election. Sign up to be a poll worker in your community at PowerthePolls.org/LWV. Most election offices pay poll workers, so earn some extra cash and help your community at the same time! 
You can also hold a voter registration drive on campus! Work with your local League of Women Voters or another local group — or work directly with your local election office. And be sure to hold registration drives early in the semester! Many students don't vote because they forget to register in their new college town and miss deadlines.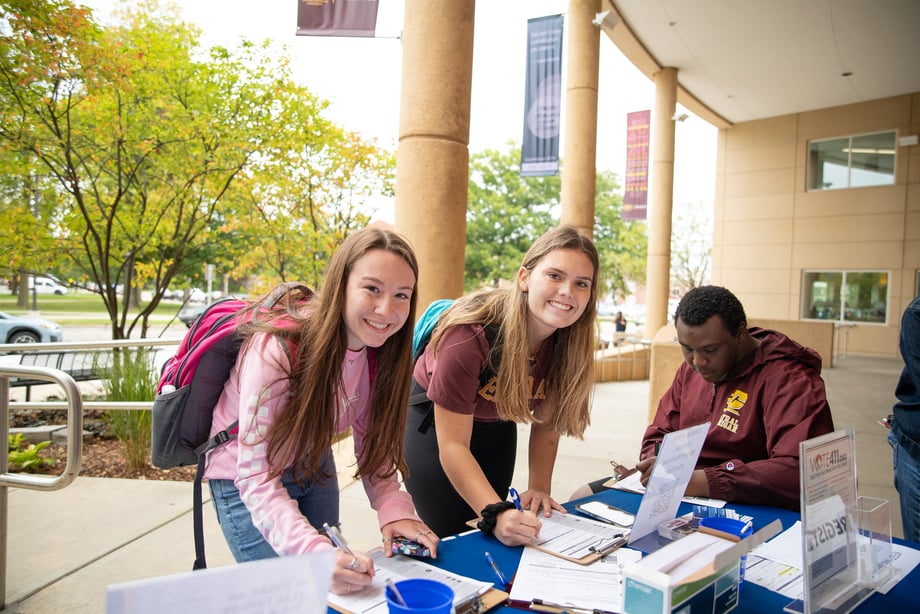 How do I decide who to vote for? 
Ultimately, your values and your community's needs determine who you vote for. There are many ways to find information on the candidates or issues on your ballot.  
Find out what's on your ballot and where the candidates stand using our personalized election info tool! 
Check out our guide for how to judge a candidate for some guiding questions to help you evaluate each one. Talk with your friends and family members about their thoughts. Read interviews where candidates talk about their priorities in their own words. Watch debates and forums to hear candidates' unedited thoughts on important issues.  
Our democracy needs your voice, so make it heard! 
What if I have other questions? 
If you have a question you can't find the answer to on VOTE411 or elsewhere, contact your local League of Women Voters! They are happy to help you navigate the voting rules in your area. If you experience problems at the polls when you vote, call the Election Protection Hotline at 866-OUR-VOTE (also available in other languages). 
The Latest from the League
October 27th is VOTE411's birthday! We're reflecting on some of our favorite moments in the nonpartisan voting guide's history.
Find and compare candidate and election info using our new tool!
Mayors have the power to shape the vision of the city. They are the public face of the city and that role has influence. Get all the info you need to cast your vote for this significant role.
Sign Up For Email
Keep up with the League. Receive emails to your inbox!
Donate to support our work
to empower voters and defend democracy.