Two months after my 18th birthday, I voted in my first US election. I was certain of my choice for the highest office. I brought my ballot into the poll booth and marked a candidate for President of the United States. I had done it! Civic duty complete!
But while I knew which presidential candidate I was voting for, there was an entire list of candidates for offices that I knew nothing about. Staring back at me were candidates for Park Board, School Board, County Commission, and more. Who were these people?
I left my polling site feeling like I had failed a civics test that no one had prepared me for. This sinking feeling ultimately led me to volunteer with my local League of Women Voters' group and now work at the National League on voter guides. I wanted to help others feel confident when they cast their ballots in local elections.
If you want to learn more about local offices that might show up on your ballot this year, then this blog series is for you. This series will include the offices of mayor, city council, county commission, school board, and more.
These offices have a major impact on your community and your daily life, like how much you pay in property taxes, where housing is built, and where your city sets its priorities. Join me as we explore these in this blog series: Why Voting Local Matters.
First in our series: the mayor.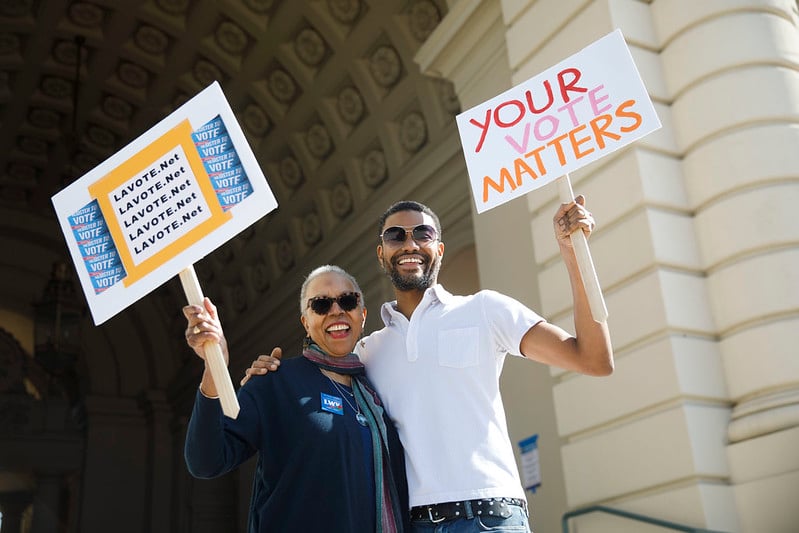 What Does a Mayor Do?
Many city governments are modeled after the United States federal government; they have an executive branch (the mayor and the city departments), a legislative branch (the city council or commission), and a judicial branch (the city courts system).
A majority of cities have a mayor at the helm, but the mayor's role can vary greatly depending on the needs of the city. Some mayors are more like a chief executive officer, while others have a role on the city council to vote on city laws, and some simply hold a ceremonial role.
No matter the role of the mayor, they have the power to shape the vision of the city. They are the public face of the city, and that role has influence. Here are a few broad responsibilities they might fulfill:
Leading the City: Mayors are usually the face of the city. They build trust among residents, local businesses, and city agencies, and meet with other elected officials and community leaders. They may also be the ones making statements to the press on behalf of the city.
Setting Policy: Mayors might develop the public policy roadmap for the city, propose city laws, vote on the city council, set legislative schedules (deciding which proposals are heard and which are put on the backburner), and/or hold the power to reject (veto) proposed city laws.
Working with the City Council: The mayor may share governing power with the city council by voting on actions, or they may hold no formal role on the council. Either way, the mayor needs to build relationships with council members to ensure the city's needs are met.
Overseeing City Departments: When a law is passed, the city departments carry out the laws, and some mayors are tasked with overseeing this work.
Managing Workers: Some mayors have the ability to appoint or remove city managers, city personnel, or even city council members.
Voting For Mayor
So, why should you vote for the mayor? 
Mayors influence democracy. Mayors can increase the city's budget for voter education or vote on election issues. For example, my city's mayor and city commissioners voted to mail out vote-by-mail applications to all eligible voters in 2022!
Mayors set the budget, deciding where to prioritize spending. Budgeting largely influences the focus of the city.
Mayors propose or influence city laws. They can vote on where new housing developments are built or whether to support mental health initiatives.
Mayors oversee departments like the police or public works. They have a direct influence on your local police force and oversight on works like road repairs.
Mayors, as the leader of the city, make decisions that directly impact your day-to-day life, so a vote for them is powerful for your community.
City elections across the United States happen year-round, and it can be hard to know when one is coming up. We have just the tool for you! Our voter information tool VOTE411.org is updated with upcoming election dates as we see them posted.
Not only that, we also have local League groups across the country publishing their voter guides on VOTE411. Simply enter your address to check if a voter guide is published in your area. This is a great way to see if your city's mayor is up for election. 
Take time to research the candidates who're running in your city. A vote for mayor is a vote for democracy.
The Latest from the League
Learn where your candidates stand on the issues that matter most with your candidate guide from VOTE411.
Voter guides, particularly the candidate information they provide, are essential tools for state and local elections that every American deserves access to.
The Electoral College has been a part of our democratic process since the start, but what does it really do and what can we expect this year? Here is what you should know.
Sign Up For Email
Keep up with the League. Receive emails to your inbox!
Donate to support our work
to empower voters and defend democracy.