Naturalization ceremonies occur each year when immigrant residents take their Oath of Allegiance and complete the process to become US citizens. Almost 1 million immigrants became naturalized citizens in 2022, expanding the electorate significantly.  
In 2022, 31 League volunteer teams across the country reported attending nearly 800 naturalization ceremonies and registering over 37,000 New Americans to participate in our democracy — this represents just a small portion of our 750+ Leagues' impact. 
LWV's New Citizen Voter Registration Project 
Naturalized citizens vote equally or more than native-born citizens once registered. However, they face great barriers to registration, including fear, lack of information, and language barriers, as mentioned in the report Naturalize Now, Vote Tomorrow.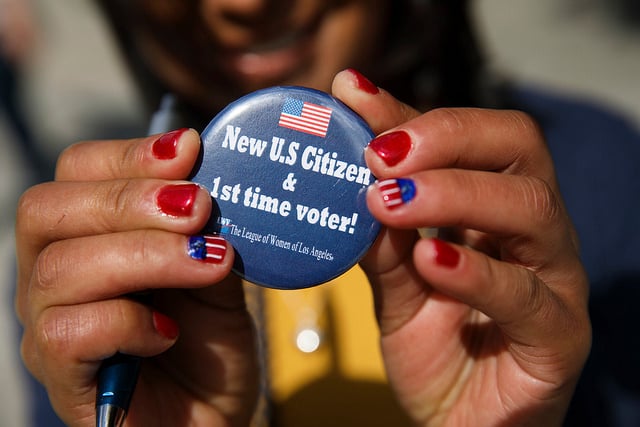 The League of Women Voters Education Fund (LWVEF) launched its New Citizen Voter Registration project in 2012. It has since provided financial and technical support to state and local Leagues in registering and educating  New Americans at naturalization ceremonies. This project helps ensure that naturalized citizens have the ability to register to vote and the knowledge to participate fully in our democracy. 
Over the years, local and state LWV affiliates have participated in registering newly naturalized voters, including the following: 
 LWV of Charlotte-Mecklenburg, NC reports: "We have had this program in place for 10+ years...[o]ur greatest success is the number of new citizens that we are able to register at these ceremonies." 

LWV of Metropolitan Tulsa, OK have also committed to becoming valued partners in the registration space: "Our greatest success is being the go-to organization for City Hall naturalization ceremonies and being able to provide volunteers for nearly every ceremony."  

LWV of Houston, TX, a team that often registers thousands of voters at ceremonies describes their greatest success in 2022 as "providing registration materials for every naturalized citizen in Houston." 

LWV of Maine is one team that's developing materials in multiple languages, to meet voters where they are: "We translated our Make Your Vote Count booklets into a total of 9 languages in addition to English...and gave them out at the door but also through immigrant support organizations and adult ed programs...We were able to reach 6,475 people with them." 
Register new citizens in your community with your local League!
Leagues attribute their success in expanding their outreach to immigrant and New American populations to their partnerships with other community and service organizations, as well as other local Leagues.  
As members of the LWV of Camden, NJ describe, "Our greatest successes were partnering with our sister leagues and organizations…all targeting underserved communities with highly diverse immigrant populations." 
Similarly, members of the LWV of Fairfax Area, VA stated, "We successfully collaborated with our local sister leagues to allow us to marshal 24 volunteers for each of our larger events. It was a regional effort." 
LWV's Impact By the Numbers 
1,272 League volunteers participated in the 2022 project. 
They spent over 7,000 hours preparing for and attending naturalization ceremonies and providing critical Get-Out-the-Vote (GOTV) follow-up for the registered voters to encourage turnout. 
Further, League volunteers distributed over 51,000 League voter education materials and provided over 22,000 voter registration applications to take home for those that did not register on-site.  
Support our work to register new voters and distribute essential election materials!
What's Next? 
In 2023, Leagues will continue to register and educate New Americans. 43 League volunteer teams are participating in this year's project and aim to attend over 1,700 naturalization ceremonies.  
Leagues also plan to expand their outreach and impact, like the LWV of Maine. "We're excited that our presence at naturalization ceremonies is welcome again and plan to be at all of them this year. We will also continue and deepen our organizational outreach.," representatives from Maine said. "We make reaching the people on the margins the center of much of our work. New Americans are one of the groups facing the most barriers to participate, so we'll continue to do this work." 
LWV of Minnesota reported registering nearly 13,000 naturalized citizens in 2022 and is gearing up for more in 2023. "It is one of our most successful ongoing projects...I look forward to get to our next level of service.. to help further engage new citizens in turning out to vote." 
Let's continue to ensure that New Americans have access to voter registration and vote! You can support our work by joining your local League, spreading the word, or donating to our Education Fund. 
The Latest from the League
The League of Women Voters Education Fund (LWVEF) has tapped into the power of young people through its Youth Voter Registration project since 2010. In the spring of 2022 alone, 87 League volunteer teams across the country hosted close to 900 events and registered 22,406 youth in high schools, technical schools, community colleges, youth shelters, and at community events like protests, rallies, and festivals. 
As volunteers of the League of Women Voters of Fairfax (VA) helped new citizens and others register to vote this past weekend, we also helped answer many of the common questions that come up about the voting process.
It's up to us to make sure everyone has the information and ability to cast their vote! 
Here are five ways you can empower voters and defend democracy through volunteer work. 
Sign Up For Email
Keep up with the League. Receive emails to your inbox!
Donate to support our work
to empower voters and defend democracy.