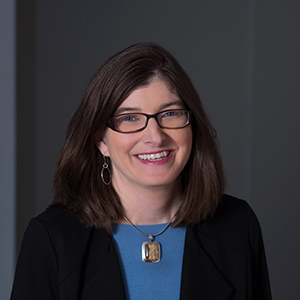 Kelly McFarland Stratman is a nonprofit executive with a track record of fostering innovation and transformative change. A trusted leader, Kelly believes that success blooms in an environment of collaboration, respect, and opportunity. She is an ASAE-certified association executive and serves as the Chief of Staff. 
Kelly has held various leadership positions in her 18-year tenure in the League's national office.  For more than a decade, Kelly worked in the membership/field support area, building capacity among the organization's volunteer-led 750 affiliates. Kelly managed several initiatives, including the Membership and Leadership Development (MLD) program, Citizen Initiative for Transparency, and Local Voices: Citizen Conversations on Civil Liberties and Secure Communities. Most recently, she has focused on organization-wide culture change, through governance, strategic planning, and diversity, equity, and inclusion.  
Prior to joining the League's national office, Kelly served as the Executive Director of the League of Women Voters of Ohio, where she managed the state office, coordinated lobbying activities, and managed grant-funded citizen education and advocacy efforts.
 Kelly's academic background is in international relations with a special concentration on Asia, which was a springboard to her living and working in Japan for more than 4 years. These days, she makes her home in northern Virginia with her husband Steve and their two teenage daughters.