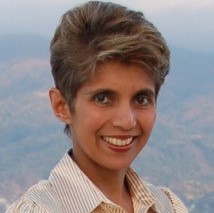 Dr. Sania Irwin serves on the Board of Directors of the League of Women Voters of the United States (LWVUS). At her local League in Glen Ellyn (Illinois), she spearheaded the nonpartisan Get Out the Vote (GOTV) effort in 2018, that positively impacted voter participation in low turnout precincts by 5-percentage points. 
Sania is co-founder and president of One Community, a 501(c)(3) charitable entity, which aims to raise awareness, acceptance, and involvement of neighbors of all backgrounds. The organization was the key proponent behind the adoption of a local Welcoming Community Resolution in 2019, and successfully advocated for establishing a Community Relations Commission (CRC) in 2021. Sania also serves as the chairperson of the CRC, which has led the effort in instituting a Diversity, Equity, and Inclusion (DEI) policy and lens for the local jurisdiction. 
Passionate about education, Sania serves on Northwestern University's Industrial Engineering & Management Sciences Advisory Board, which provides guidance on academic programs, accreditation, and facilitates student mentoring and alumni involvement. 
Dr. Irwin is an accomplished technology executive. She is the senior vice president of Engineering & Impact at EagleRail Container Logistics, where she is responsible for corporate purpose and mission-aligned intelligent, data-driven automation solutions. She has previously held various senior executive and technology positions at Motorola, Nokia, General Motors, and Xerox.