The League's leadership in the fight against voter suppression is making a major impact in states across the U.S. As lawmakers continue to pass legislation and employ tactics that disenfranchise voters, the League challenges these efforts at every level of governance through public advocacy, grassroots organizing, legal action, and public education.
Every year, millions of voters are protected through the League's national programs. In the spring of 2017, the League launched its latest Public Advocacy for Voter Protection (PAVP) Project, the tenth to be carried out within the last decade. As part of this two-year program, Leagues in Florida, Georgia, Michigan, Ohio, Texas, and Wisconsin worked to prevent the disenfranchisement of our nation's most underrepresented voters, specifically those in communities of color, low-income individuals, and young people.
Across the six states, on-the-ground League activists protected over 700,000 voters, increased voter turnout, identified critical issues with statewide voter registration systems, promoted online voter registration, and distributed thousands of informational materials to voters. Volunteers dedicated over 625 hours collecting data, training poll workers, and educating the public on why strict voter photo ID laws and documentary proof of citizenship requirements threaten the integrity of our democracy.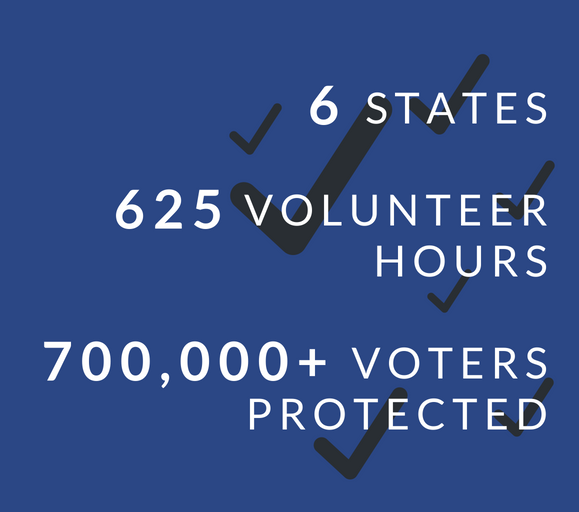 While project efforts were state-based, the impact of the Leagues' work will be felt across the nation for a long time to come. Leagues challenged anti-voter legislation and monitored National Voter Registration Act (NVRA) compliance by leveraging and improving relationships with over 850 national and local coalition partners representing a diverse array of populations. The League of Women Voters of Ohio filed a joint amicus brief with the League of Women Voters of the U.S. to the U.S. Supreme Court case Husted v. A. Phillip Randolph Institute to argue that the process used by Ohio to purge voters from voter rolls is illegal, inaccurate, and unreasonable under the provisions established by Section 8 of the NVRA. The League of Women Voters of Texas collected data on what Texas high schools are doing to ensure students have opportunities to register to vote. The League of Women Voters of Georgia identified a major flaw in the Georgia Department of Driver Services' implementation of a new online voter registration system and are currently advocating for improvements in that system.
The outcomes of these collective efforts will help set national precedents and safeguard citizens' ability to exercise their right to vote. To learn more about how you can get involved, ask the League in your area about volunteer opportunities!
Sign Up For Email
Keep up with the League. Receive emails to your inbox!
Donate to support our work
to empower voters and defend democracy.