A fixture in the voter engagement field for over 90 years, the League of Women Voters works to register and turn out new communities of voters, with the long-term aim of expanding the American electorate and ensuring a democracy that reflects the true diversity of our communities.
While League volunteers focus their voter registration efforts in a wide range of communities, one area of particular focus—and a personal favorite for many volunteers-- has always been our work the new citizen community. Dozens of volunteer League teams work year-round, every year, to register new citizens on swearing-in day. Our volunteers are fixtures in courtrooms and ceremony sites nationwide, welcoming generations of new Americans from hundreds of nations with a voter registration form, a congratulatory smile, and a helping hand.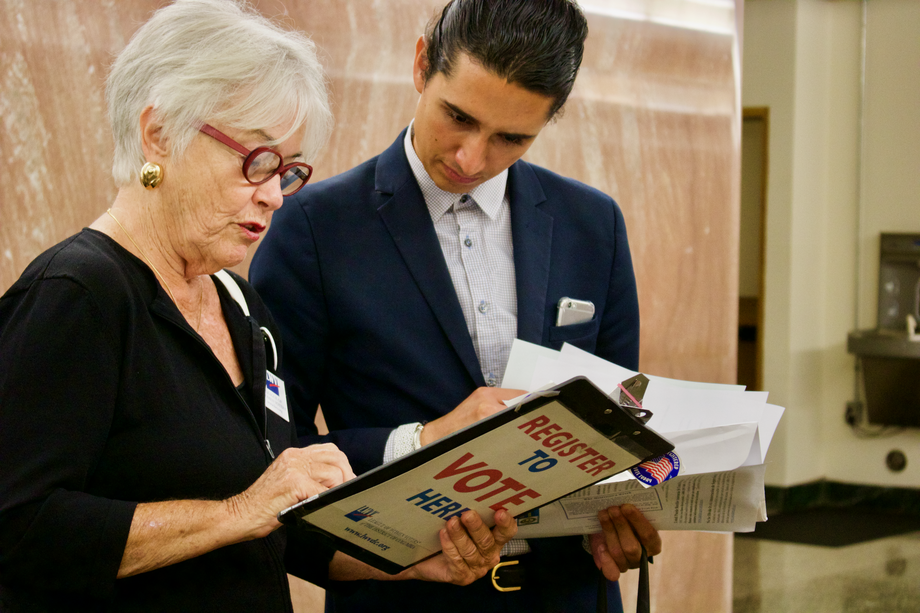 In 2017, our New Citizens Voter Registration project resulted in 25,000 new Americans registered to vote. From metropolises like Houston and Atlanta, to the western hills of South Carolina and the Pacific Northwest, more than 700 League volunteers worked all year to plan and carry out voter registration drives at more than 450 naturalization ceremonies for new citizens.
In addition to assisting brand new citizens in the voter registration process, League volunteers also provided tens of thousands of voter education materials, such as the League's gold standard nonpartisan voters' guides, to help the new citizens learn about upcoming elections and get ready to cast their first vote. As Election Day approached, they called, texted, and mailed the new citizens with election reminders and fielded hundreds of questions from new citizens preparing to vote for the first time. All told, our volunteers estimate investing more than 13,000 volunteer hours in the project.
We're inspired to make our 2018 New Citizens Voter Registration Project bigger and better than ever! Want to get involved? Find the League in your area and ask them about volunteer opportunities!
Sign Up For Email
Keep up with the League. Receive emails to your inbox!
Donate to support our work
to empower voters and defend democracy.