Hint: It has to do with Partisan Gerrymandering 
When I stared down at my positive pregnancy test, I wasn't thinking about my political party affiliation. I wasn't thinking about who I last voted for. And I wasn't thinking about the control my legislators have in making it easier or more difficult to access basic healthcare. Despite the fact that politicians seem so desperate to control what happens in my uterus, I did not think about a single one when dealing with my unintended pregnancy. My reproductive health decisions have nothing to do with legislators. Yet, my ability to make the decisions that are best for my life and health have everything to do with who is in office. 
This week the Supreme Court will hear oral arguments in June Medical Services LLC v. Russo, a case that challenges a Louisiana law designed to undermine access to abortion. This law is part of an ongoing, nationwide effort to regulate abortion out of existence and has been raised despite public opinion polls showing that the majority of people support keeping abortion legal--such as in Alabama, Georgia, Ohio, and all over the country.  
This case is a reflection of how our laws and the people who hold seats in office do not always reflect the will of the people. How does this keep happening? Because of partisan gerrymandering.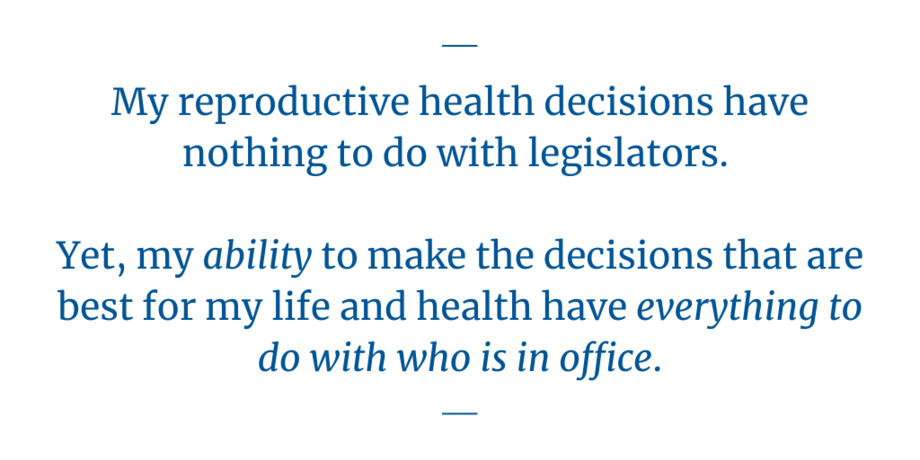 After each decennial census, states must redraw their electoral districts to account for changes in population. In most states, the legislature is responsible for redrawing the maps, often with no public input. Void of public input and with little to no transparency, legislators can get away with manipulating district lines such that it keeps their own party in power. They do this in a variety of ways, such as by "packing" the opposing party's voters in few districts in order to maintain votes in a majority of districts or by "cracking" districts to dilute the voting power of the opposing party's supporters across many districts. This manipulation of district lines and disenfranchisement of voters on the basis of party is called partisan gerrymandering. The practice of partisan gerrymandering allows for distorted maps that put and keep people in office who can pass distorted laws because the voters lose the ability to hold their legislators accountable. 
After the last decennial census in 2010, new district maps were drawn the next year with historic records of partisan gerrymandering. These distorted partisan maps paved the way for anti-abortion legislators to pass 479 state laws between 2011 and 2019 restricting access to abortion despite public pushback. 
One's ability to choose if, when, and how to have a family is a critical part of one's freedom, liberty, and economic security. In its 1992 Planned Parenthood of Southeastern Pennsylvania v. Casey decision, the U.S. Supreme Court affirmed: "The ability of women to participate equally in the economic and social life of the Nation has been facilitated by their ability to control their reproductive lives." The League of Women Voters of the United States believes that public policy in a pluralistic society must affirm the constitutional right of privacy of the individual to make reproductive choices.
Just over two weeks ago, the League of Women Voters celebrated our 100th Anniversary through a nation-wide Day of Action centered around the theme Women Power the Vote. In August, we will celebrate the 100th anniversary of the 19th Amendment, when some women first gained the right to vote. The fight to ensure people can vote and that their votes count is ongoing. We are living in a time of increased public engagement where people all over the country are fighting for a working democracy in which our voices must be heard. It is no surprise, that in response to this engagement and people-power, some legislators feel threatened. It is not a coincidence that people most impacted by voting restrictions and gerrymandering are most impacted by abortion restrictions.  This fight is not about fairness or health. This fight is about who holds power and how legislators are using their role to limit the voice and impact of the masses. It's about control and suppression of communities that are traditionally poor and Black and Brown. They are using their power to stop this progress by enacting laws – such as restrictive voting and restrictive abortion laws – to exacerbate inequity. And gerrymandering allows legislators to continue pushing harmful legislation unchecked. 
The League of Women Voters launched the campaign for People Powered Fair Maps to address gerrymandering after the U.S. Supreme Court refused to set federal standards following consideration of League of Women Voters of NC v. Rucho and two other cases. When it comes to the redistricting process, we need public input, we need transparency, and we need to protect communities of interest. The maps drawn in 2021 based on the 2020 Census will be in place for 10 years. We don't have time to sit on the sidelines. 
When faced with an unintended pregnancy, I thought about how out of control I felt over my own body. I thought about the shame I felt when considering confiding in my sister.  And I thought about how desperately I did not want to be pregnant. I was dealing with my own body, my own future, my own health, and my own economic security. I made one of the most freeing and responsible decisions of my life and chose to have an abortion. I care about fighting for a working democracy and ending gerrymandering because I care about reproductive justice.  
We must hold our politicians accountable. We need to end gerrymandering and continue to fight to defend our democracy. Take action in your state by finding a League near you and ask how you can participate in efforts to fight for a representative government through People Powered Fair Maps. 
Sign Up For Email
Keep up with the League. Receive emails to your inbox!
Donate to support our work
to empower voters and defend democracy.