This guest blog post was contributed by Kym Kettler-Paddock, President of LWV Hong Kong.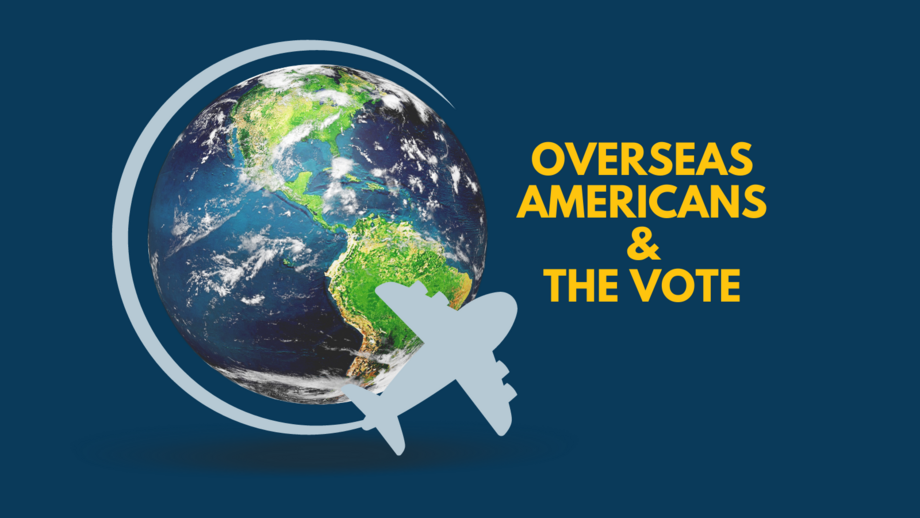 While stateside Americans ponder whether to vote in person or how long it will take to get their ballot delivered to their local election office, overseas Americans are scanning the plane-free horizon and wondering whether airmail service has been restored, whether their local US embassy is finally open, and whether shipping their ballots by surface mail will take closer to 45 days or 60 days to arrive.
Overseas Americans have always faced challenges in voting, but in this annus horribilis known as 2020, the obstacles for registering to vote and for returning voted ballots have intensified.
What sorts of obstacles do overseas Americans face in voting and how can they overcome them?
Many Americans who move abroad simply have no idea how to register as an overseas voter.
The process is different from what they were used to stateside, and in many states, due to the MOVE Act, the overseas voter must re-register every calendar year in which they want to vote.
There are a variety of websites that support Americans to register from abroad, but the most comprehensive overseas voter registration site is run by the  Federal Voting Assistance Program (FVAP). FVAP is a non-partisan organization set up by the US government to assist both overseas civilians and members of the military to vote.
Not everyone, however, is comfortable registering online. Many citizens attend voter registration events or contact their local US Consulate or Embassy to obtain a paper version of the Federal Postcard Application (FPCA—the overseas voter registration form). 
Registration rules can be complicated.
There is no consistency between states in voter registration. Four states require voters to register via snail mail, while the other forty-six states allow citizens to register by mail or online. Several states that offer online voter registration (such as New York) also require a paper FPCA to be mailed after the online registration has been completed.  
Voters can find these regulations at www.fvap.gov.
Overseas voters may struggle with which address to use for voter registration.
This is a frequent question because people have complicated personal lives. Do students use their campus address or their parent's address? Which residence should be chosen if a young American was born overseas, has never lived in the US, and whose parents had separate legal residences prior to leaving the US? 
The local election official has the final say in whether or not a person is allowed to vote in a particular location, and if in doubt, you should seek clarification from them.
Many voters are concerned that registering to vote will land them with tax residency in a particular state.
Due to the United States' unique tax laws, overseas Americans are already subject to double taxation on their incomes and do not need a third set of taxes to pay. While federal law prohibits states from assessing tax residency on an individual if they only vote for federal offices (President, Senators, and House of Representatives), some states are notorious for slapping unsuspecting voters with tax residency if they vote down-ballot.
Overseas voters do not always receive their paper ballots.
The efficiency of postal services varies between countries, and especially with the disruption in airmail, voters may not receive the ballots that they have requested. Overseas Americans who have registered to vote but who haven't received their ballots can vote the FWAB – Federal Write-In Absentee Ballot.
Voted ballots sent via snail mail may not arrive in time.
Thirty states accept voted ballots online through an app, email, or fax, but twenty states still require voted ballots to be returned by snail mail.
This year, airmail was suspended between 110 countries and the USA, leaving overseas voters with only surface mail as a regular postal option. Surface mail is slow. For example, sending a ballot via airmail from Hong Kong to the USA would take 7-16 days while surface mail would take 44-67 days!
Thankfully, airmail has resumed between the US and many countries, so voters should check their mailing options with their local postal service. Airmail may now be available.
Voters can return their ballots via couriers, but this is expensive. One voter in Kuwait expressed frustration that a courier would cost nearly $100 to send her ballot to the US. In addition, not all local election offices accept ballots from couriers. Still, this may be the only option for some voters.
COVID-19 didn't just shut down airmail—it also shut down or severely reduced citizen services at US Embassies and Consulates around the world. This is problematic because most US Consulates and Embassies mail ballots back to the US via the diplomatic mail pouch.
Voters wanting to return their ballots via a US Consulate should contact them first to determine if they are accepting ballots and how long they expect delivery to take.  Voters who live near a US military installation can also contact them to see if they will include ballots in their military mail.
While voting from abroad requires a bit of tenacity and may cost more this year, we must remember that many overseas Americans will be voting from countries where their own neighbors do not possess the right to vote for their government officials. Americans should be grateful for this precious right that we have and exercise it carefully.
Sign Up For Email
Keep up with the League. Receive emails to your inbox!
Donate to support our work
to empower voters and defend democracy.