Due to the pandemic, more people will be voting by mail this year than in any previous election. The New York Times found that this year it is estimated that over 80 million mail-in ballots will be sent into election offices, which is more than double the amount that were returned in the 2016 election. This means that the 2020 election result will likely be determined by mail-in ballots.
Every election, thousands of ballots are thrown out because of simple technicalities like missing the delivery deadline, issues with the signature, or uneven enforcement of the rules. This is especially true for communities of color, younger voters, and first-time voters who are more likely to have their ballots rejected.
In 2016, the Washington Post found that the number of ballots that were thrown out amounted to 1% of the 33.4 million mail-in ballots cased which is nearly 319,000 votes. For added perspective, in 2018 New York's 12th congressional district, that Representative Carolyn Maloney holds, was determined by 3,700 votes, but 13,000 ballots were thrown out in that race because of missing signatures or late postmarks.
Fewer rejected ballots mean that the actual will of the population will be reflected in the vote total. One of the best ways to ensure that every vote is counted is for states to have notice and cure procedures in place.
So, what does notice and cure mean?
Simply put, notice and cure is a process where the state notifies a voter of an issue with their mail-in ballot and provides the voter with an opportunity to fix or "cure" that issue so that the voter's ballot will be counted.
The bulk of these issues are often small errors with either a missing signature or a signature that does not match the one on record. Normally, a local election clerk's office will notify the voter by phone, email, or through the mail then will provide the voter with the process and time frame for the error to be fixed. The remedies required for curing a ballot vary from state to state and can include showing up at a location and showing your ID or emailing a copy of your ID to the election office.  
Currently, there are eighteen states that have election laws requiring a voter to be notified if there is a mistake with the signature on their ballot and provides them with an opportunity to fix it.  Due to the pandemic, other states have adopted changes to their election policies that will be in effect for the 2020 election.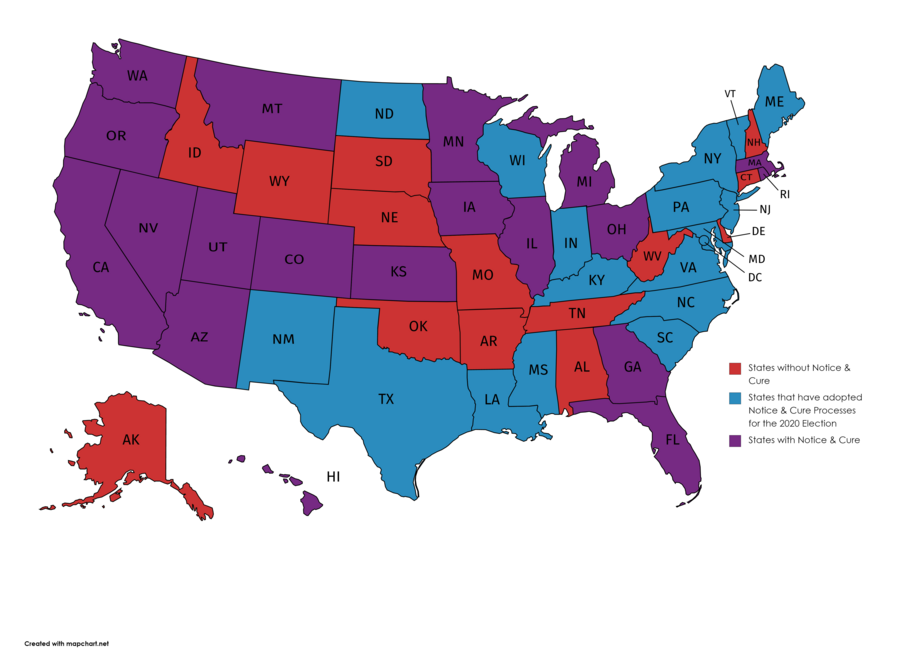 In states that do not have these procedures, a mail-in voter could submit their ballot and, because of a technicality, their vote will be disqualified. While there are some states that have ballot tracking mechanisms in place, this does not ensure that the voter will have enough time to spoil and resubmit the ballot or contact the election office and request to fix it.
As Celina Stewart, chief counsel at LWVUS, said, "unless you called your local election officials on a daily basis or hourly basis to see if your vote had been recorded, there wasn't a way to know until after the election was completed and the numbers were sent to the state."  
Notice and cure processes are the most effective mitigation factor against voter suppression relating to mail-in ballots.
The League has led the charge in many states that do not have a process and where we have seen patterns of higher rejection rates to push for a way for voters to have a way to protect their vote.
We have brought litigation in states like Arkansas, Pennsylvania, North Carolina, New Jersey, Texas, New York, Ohio, Mississippi, South Carolina, and Wisconsin to compel those states to adopt notice and cure processes. Federal courts are increasingly recognizing that notice and cure processes are required by the 14th amendment because without it voters are deprived of their procedural due process rights.
States that have adopted notice and cure processes after litigation have seen a dramatic increase in ballots that were counted. For example, North Dakota adopted a notice and cure process for the first time in its June 2020 all-mail primary. The Campaign Legal Center found that this resulted in 58% of the ballots that were flagged for signature issues were counted after voters verified their identity. Despite the increase in absentee ballots in that primary, the number of ballot rejections went down by 20%.
Notice and cure processes help ensure the results of an election will be fair and accurate.
Sign Up For Email
Keep up with the League. Receive emails to your inbox!
Donate to support our work
to empower voters and defend democracy.