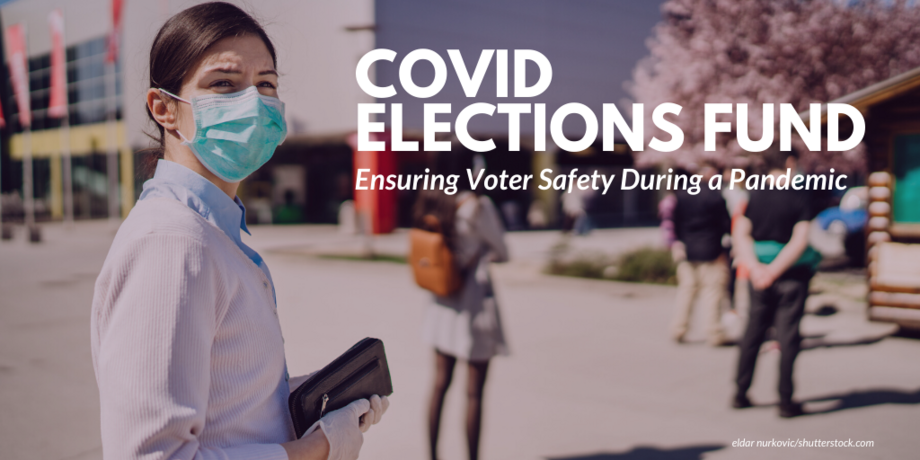 The League of Women Voters Education Fund launched the COVID Elections Fund to reduce the crippling impacts of the coronavirus on voters. 
With millions of cases worldwide, and tens of thousands of deaths in the US, the coronavirus is poised to ravage American towns and cities for months to come. As Americans continue to practice safe physical distancing, participation in our democracy is obstructed and weakened.  
 
Primaries are postponed, causing mass confusion. 
Absentee ballots are delayed getting to voters in time, decreasing voter participation. 
Voters must make the choice: risk their health to stand in long crowded lines to exercise their right to vote, or to stay home and lose out on participating in our American democratic process. 

How Does the League of Women Voters Help? 
In the coming weeks and months, the League will invest in technology and training to: 
Protect 4 million voters by working with elections officials to ensure safe and accessible voter options during the coronavirus pandemic 

Mobilize 1 million voters to cast their votes and make their voices heard 

Register 500,000 new voters, especially targeting young people and new citizens to participate in our electoral process 

Support more than 6 million voters through massive online voter education and outreach 
Support the League's COVID Elections Fund to ensure that we can continue to register, mobilize, train, and educate voters all over America. In this election year particularly, the League is determined to empower Americans to exercise their right to vote and equip voters with the knowledge they need to safely cast their ballot. With your gift, we can ensure voters don't sit this election out because of fear and uncertainty of a deadly pandemic.  
We know for certain that democracy must continue. Together, we can continue protecting and defending voters' rights and safety. Thank you for thinking of us, and your fellow Americans, during this unsettling time. 

Sign Up For Email
Keep up with the League. Receive emails to your inbox!
Donate to support our work
to empower voters and defend democracy.