In Minnesota maps are drawn by the state legislature and approved by the governor. Maps drawn in the 2021 redistricting process will be in place for the next ten years, so it is crucial that Minnesotans share their communities' needs with map drawers. Together we can ensure that all communities, no matter race, background, zip code, or income, are fairly represented in our map-drawing process and have equitable resources. Let your voice be heard by speaking out for your neighbors.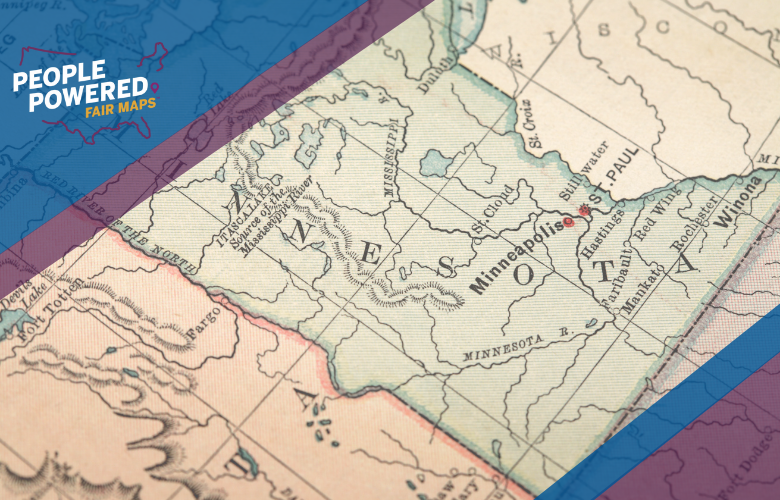 Upcoming Hearings
Your voice deserves to be heard! Here are ways you can elevate your voice and share about your community's needs with map drawers:
Monday, October 11, 6:30 pm CT: Woodbury City Hall (Council Chamber), 8301 Valley Creek Road Woodbury, MN 551254 

Tuesday, October 12, 6:30 pm CT: Minneapolis Park Board Headquarters (Board Room), 2117 West River Road North Minneapolis, MN 55411

Wednesday, October 13, 6:30 pm CT: Shakopee City Hall (Council Chamber), 485 Gorman Street Shakopee, Minnesota 55379 

Thursday, October 14, 6:30 pm CT: Stearns County Service Center (Board Room), 3301 County Road 138 Waite Park, Minnesota 56387 

Friday, October 15, 6:30 pm CT: Minnesota Judicial Center (Conference Room 230), 25 Rev. Dr. Martin Luther King Jr. Blvd. St. Paul, Minnesota 55155 

Monday, October 18, 6:30 pm CT: Hjemkomst Center (City Council Chamber), 202 1st Avenue North Moorhead, Minnesota 56560 

Tuesday, October 19, 6:30 pm CT: St. Louis County Courthouse (Board Room), 100 North 5th Avenue West Duluth, Minnesota 55802 

Wednesday, October 20, 6:30 pm CT: Worthington Event Center, 1447 Prairie Drive Worthington, Minnesota 561875

Thursday, October 21 – 6:30 pm CT: Olmsted County Government Center (Courtroom 1, Fifth Floor), 151 4th Street SE Rochester, Minnesota 55904

Tuesday, October 26, 6:30 pm CT: Zoom Hearing | Join Virtually 
Connect With Your State League
The League is working to ensure that maps are not gerrymandered, but instead, drawn fairly and transparently, through our redistricting reform program People Powered Fair MapsTM. Connect with the LWV of Minnesota to learn more about how you can be a voice for your community.
Sign Up For Email
Keep up with the League. Receive emails to your inbox!
Donate to support our work
to empower voters and defend democracy.