middle-center
Why It Matters
Increased accessibility to the electoral process is integral to ensuring that every American can exercise their right to vote. Leagues across the United States work year-round to promote pro-voter reforms that both preserve our existing rights and provide flexibility for casting ballots in order to be inclusive of historically underserved communities. 
While we have made progress in expanding voter access, many people still face disproportionate challenges to participate in elections due to factors including health, age, race, and gender. Our democracy is strongest when every voice is heard, which is why we strongly advocate for measures to make voting more accessible. 
Voter Accessibility Measures Supported by LWVUS
Automatic voter registration 

Online voter registration 

Multilingual voting resources 

Extended polling hours 

Mail-in voting 

Early voting 

Eliminated ballot notary and witness signature requirements  

Extended registration deadlines 

Expanded polling locations 

Eliminated or relaxed ID requirements 

Added protections for in-person voting 
Pro-voter reforms have transformed our democracy and led to unprecedented voter turnout in the 2020 Election. But they are too often threatened by politicians and special interests who prioritize their own needs over an equal and fair democracy. When it comes to opposing these anti-voter efforts, the League is on the frontlines, advocating in state houses and in Congress, fighting anti-voter laws in court, and organizing activists to make their voices heard.  
As we work to expand voter access, the League also empowers voters through VOTE411, a nonpartisan, 'one-stop-shop' for all the election information you need to cast a ballot in every election – available in English and Spanish.  From registration to voting rules and candidate guides, this award-winning website is your guide to making your voice heard in every election.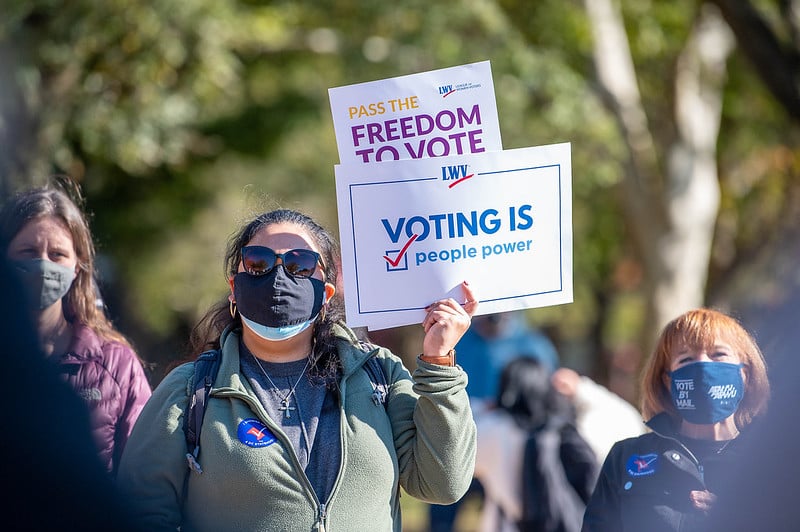 Support the fight for everyone's freedom to vote.
How We Expand Voter Access
Advocating for Voter Access 
We work with legislators, grassroots organizers, and people like you to promote laws and policies that make the promise of democracy real for all Americans. These include: 
The Freedom to Vote: John R. Lewis Act: This bill would protect and expand the right to vote, decrease the influence of money in politics, and hold our institutions accountable.

The John Lewis Voting Rights Advancement Act: By restoring many key components of the Voting Rights Act, this bill would protect against voter discrimination

The Washington, DC Admission Act: Over 700,000 DC residents pay taxes, are eligible for the military draft, and contribute to our nation and their community the same as residents of every other state, yet they are without full representation in Congress. The majority of these Americans are people of color. We support full statehood and representation for the people of DC.  
Legal Work 
The League of Women Voters of the US and Leagues across the country engage in legal action supporting voting rights all year round. From Georgia to Kansas, we're fighting discriminatory and suppressive voting regulations that limit access to the ballot. 
In 2020 alone, we protected more than 25 million voters through voting rights litigation. We're proud to have a 78% win rate in federal lawsuits. 
In 2020, we protected 25 million voters
LWV has a 78% win rate in federal courts
Empowering Voters with VOTE411 
To participate in our democracy, Americans deserve trustworthy, nonpartisan information about local and federal elections, including voter guides, candidate information, polling rules and locations, and more. We make this information easy to find with our free, digital voter resource, VOTE411. 
Further Reading: Expanding Voter Access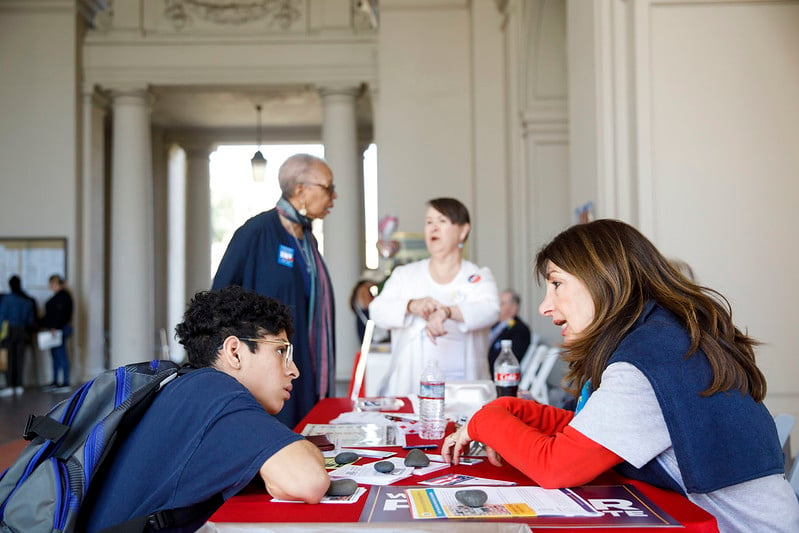 Sign up for our email list to stay updated on breaking news and ways to take action

Find election information you need at VOTE411.org

Spread the word about voting rights by sharing this page with your friends and family on social media
To become a League member, join one of the 700+ state and local Leagues.
Latest from the League
This story was originally published by Delaware Public Media.
The court ruling Delaware's vote-by-mail law unconstitutional halts its use this November, but some voting rights advocates hope there's time to appeal before the general election.
This news segment was originally aired on FOX 61.
League of Women Voters of Connecticut president Laura Smits discusses the benefits of early voting and potential changes to Connecticut's voting process.
This story was originally published on ozarksfirst.com.
The Missouri League of Women Voters and the Missouri NAACP are suing the state over a new elections law that requires a photo ID to vote. 
Stay Updated
Keep up with the League. Receive emails to your inbox!
Donate and support our work
to expand access to the vote for all Americans.