Last month, the Ohio Supreme Court struck down Ohio's 2021 state and congressional maps due to partisan gerrymandering. We spoke with the League of Women Voters of Ohio's executive director, Jen Miller, about the work Leagues are doing to ensure fair and equitable maps in Ohio. 
How has redistricting traditionally gone in Ohio?  
For decades, the League of Women Voters of Ohio (LWVO) has been one of the foremost leaders in the fight against partisan gerrymandering — the practice of rigging legislative maps to favor one political party over another. Both Democrats and Republicans have engaged in gerrymandering in Ohio, which reduces voter choices through fewer competitive elections, makes elected officials less accountable to their constituents, and fuels partisan extremes.  
In the last decade, Ohio had some of the worst partisan gerrymandered districts in the country. Roughly 75% of all congressional seats went to Republicans even though they only received about 54% of the total congressional votes. Ohio's Senate and House districts were also unfair, giving Republican lawmakers supermajorities despite Republicans only garnering a little over half of the votes in State General Assembly races.  
What is different about this cycle?  
LWVO members worked hard to achieve redistricting reforms by advocating directly with lawmakers, negotiating with both parties on the structure of reforms, collecting petitions, and educating voters. LWVO was key to reforms being adopted in 2015 for the Ohio Senate and Ohio House, which passed by over 70% of the vote, as well as in 2018 with almost two-thirds of the vote. The reforms called for bipartisanship, transparency, and public input, while explicitly prohibiting partisan gerrymandering.  
Unfortunately, we faced challenges to our advocacy from the start. Census data was delayed by the pandemic and then used as an excuse to procrastinate. Bipartisan conversations fell apart, and most decisions were made behind closed doors. Ultimately, the maps adopted were extreme partisan gerrymanders – possibly worse than from earlier decades. Fortunately, the reforms gave voters and voter advocates the ability to bring cases before the Ohio Supreme Court. 
Last month, the League of Women Voters of Ohio and partners won their challenges against both approved state and congressional maps. Can you explain why these cases were important to voters? 
On behalf of LWVO, the A. Philip Randolph Institute, and eight voters, the ACLU of Ohio filed two separate lawsuits challenging Ohio's egregiously gerrymandered Senate and House districts, as well as Ohio's congressional map. The Ohio Supreme Court heard our cases in December and rejected both the state legislative maps and the congressional maps in January.  
The bipartisan ruling gave the Ohio Redistricting Commission ten days to redraw state legislative maps, which continued to be gerrymandered. We are waiting for the Ohio Supreme Court to rule on our latest objections. In the meantime, the Ohio General Assembly has until February 14 to draw new Congressional maps; if they don't succeed, the Ohio Redistricting Commission will get a chance to do so.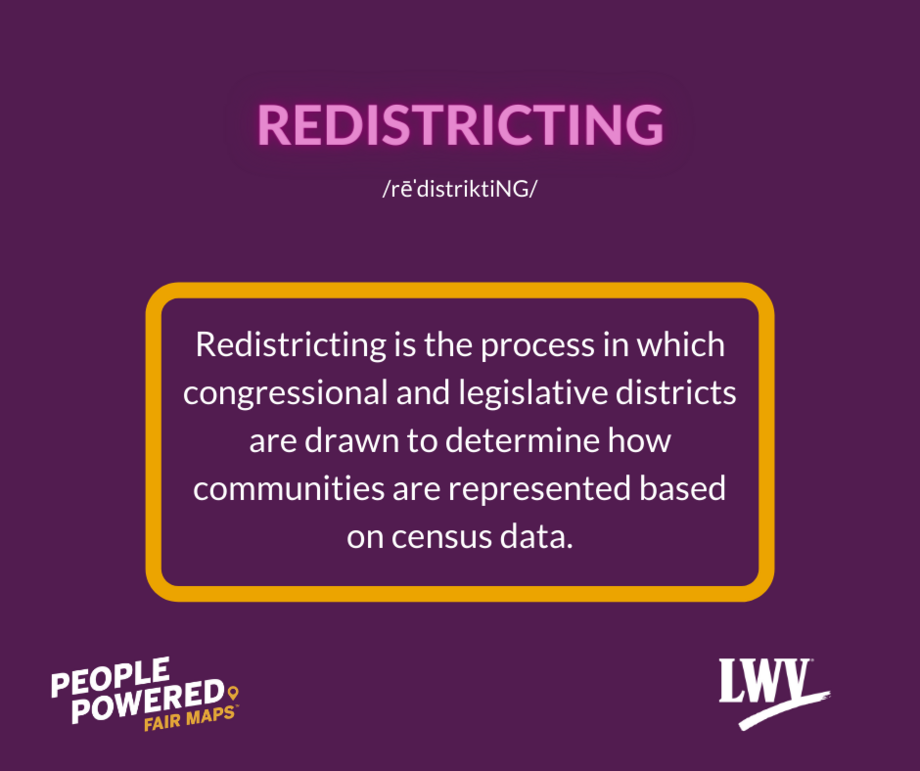 How did the Ohio League volunteers and partners engage in redistricting?  
LWVO remains grateful to our Fair Districts Ohio partners and members/volunteers, who are the backbone of efforts.  Here are just a few of the efforts they've made: 
 4,000 attended hearings 

500 gave testimony 

Tens of thousands mailed and called mapmakers 

50,000 sent Fair Districts postcards to elected officials 

15,000 displayed yard signs  

Over 150 served in the Speakers Bureau 

Over 80trained on mapping software and hosted dozens of community mapping sessions resulting in hundreds of community maps.  

Several K-12 schools used our free, online curriculum 

Numerous faith organizations used the redistricting toolkit created by faith partners 
What's more, 50 maps were given for both state and congressional maps for Fair District's Mapping Competition, proving that compact, fair, and responsive maps could be created. These efforts received widespread coverage and were featured in outlets such as the New York Times, CBS News, MSNBC, and more. 
How can the everyday person get involved in the fight for fair maps? 
Fair maps would make our work on voting rights, dark money, school funding, women's rights, and environmental protections easier, because lawmakers would be more accountable to voters. Now is the time to bolster the League's efforts by calling on mapmakers to end gerrymandering, becoming a League member, or donating.  
LWV will not rest until we bring an end to gerrymandering in Ohio and across the country. Together, we can make sure that every eligible voter can have their voice heard both at the ballot box and once their elected officials take office. 
The Latest from the League
The League of Women Voters of Ohio today announced participation in a lawsuit challenging the state's U.S. congressional districts as unconstitutional.
People Powered Fair MapsTM is a national redistricting program of the League of Women Voters focused on creating fair political maps nationwide. The program includes actions in all 50 states + D.C. 
Sign Up For Email
Keep up with the League. Receive emails to your inbox!
Donate to support our work
to empower voters and defend democracy.