Last Friday, a major exhibit on the fight for the 19th Amendment opened at the National Archives in Washington, DC. I was honored to get a sneak peek at the opening reception for the exhibit, Rightfully Hers: American Women and the Vote.  
As I walked through the incredible maze of historical photos, documents, videos, and interactive features, I was in awe of all the amazing women around me. From Ida B. Wells to Alice Paul, these are the women who marched and lobbied, who fought and sacrificed so I could have the right to participate as a full citizen in our democracy. Their struggle was long and difficult, and it's hard not to feel overwhelmed by the realization that these were, at the time, seemingly ordinary women like you and me, who did extraordinary things against the odds. It also made me wonder how many women I know today who will be reflected in the history of tomorrow for their important work as champions for justice and equality.
It's hard not to feel overwhelmed by the realization that these were, at the time, seemingly ordinary women like you and me, who did extraordinary things against the odds.
I was proud to see the archives honor the contributions of the women of color in the suffrage movement. We know the fight for women's suffrage was not inclusive of all women. During the years leading up to the 19th Amendment's passage, women of color were subjected to extraordinary acts of overt racism, often being excluded from suffrage events or forced to walk in the back of the suffrage parades. This exhibit doesn't shy away from that ugly piece of this complicated story and rightfully lifts up suffragists of color into a deservedly prominent place in American history.
As the CEO of the League of Women Voters, I feel a deep and personal connection to the areas of the exhibit that feature our organization's founder, Carrie Chapman Catt. As I watched newsreel video of our fierce leader speaking in 1920 after voting for the first time, I once again felt inspired by this incredible woman's unwavering dedication to the cause. As Susan B. Anthony's protégé, Catt continued her fight for suffrage and lobbied strategically for passage of the 19th Amendment. Reflecting on the movement's long history, Catt noted how women's rights were neglected at the nation's founding and the incredible effort it took to correct that injustice:  
"It took George Washington six years to rectify men's grievances by war, but it took 72 years to establish women's rights by law...Women's suffrage is a long story of hard work and heartache, crowned by victory."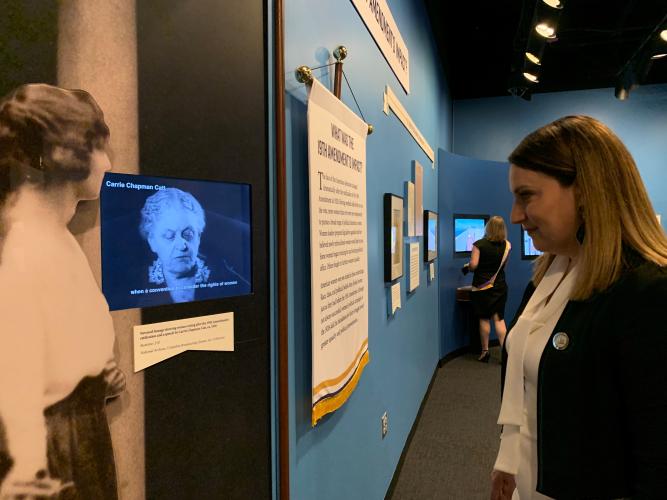 To my surprise that evening, as I was reading one of the League's documents on display, I ran into Speaker of the House Nancy Pelosi, currently the most powerful woman in America – perhaps the world. It was not lost on me that both she and I had these women to thank for the opportunities we have to serve in leadership today, and it is our responsibility to create more opportunities for the women who will come after us.  
In her remarks at the opening reception, Speaker Pelosi reflected on her first time at the White House in that role. Sitting at a table surrounded by powerful men, she wasn't alone. She felt the suffragists were with her in that moment, saying, "Now we finally have a seat at the table." 
The history of women's suffrage is not perfect. It was not always inclusive, with much of the spotlight given to women of privilege who had the means and resources to have prominent positions in the movement. For every one of these women, there were hundreds of thousands of other unsung heroines who served with no thanks or credit. But they were ALL strong, powerful women who fought for what they believed in. Many were beaten, jailed, force-fed through their hunger strikes, pushed off by president after president, but they persevered. Honoring them in this exhibit and voting in every election is how we make sure their legacy lives on.
Rightfully Hers opened at the National Archives on May 10, 2019, and it will be on display until January 3, 2021.