With the new year comes more litigation. In the past year, the League has continued our work of fighting against anti-voter bills and purges, challenges to new district maps, and pushing back against the increased attacks on reproductive rights. 
Here are a handful of the issues you may want to keep an eye on in 2022. 
Voting Rights  
For more than a year, the League has been fighting a wave of anti-voter legislation passed in the aftermath of the 2020 election. Many of these bills were passed in response to the record turnout, when more than two-thirds of eligible voters cast their votes. With the upcoming midterms in mind, the League will continue to fight for voting rights, strengthen voter protections, and advocate to limit or halt legislation that keeps voters from fully participating in our democracy.  
Much of the anti-voter legislation has similar provisions: limiting early voting, cutting access to drop boxes, weakening access to absentee ballots, and creating criminal offenses for supplying food and water to people who are in line to vote. In response to this legislation which passed, the League has filed cases in Georgia, Florida, and Texas. The Department of Justice has joined the fight against these bills in both Georgia and Florida.  
In addition to the wave of anti-voter legislation, we have seen a rise in voter purges across the country. Voter purges are particularly dangerous because they often punish voters for normal activities like moving. Further, purges are vulnerable to both manipulation and mistakes like accidentally purging voters with the same name from voter rolls. 
Support LWV's Voting Rights Advocacy
Redistricting  
As the process of drawing new district maps wraps up, cases challenging unfair maps have risen. We have seen a variety of gerrymandering claims in federal and state courts including partisan, racial, and prison gerrymandering. As the maps that decide our election representation are completed and we move towards the primaries, it's important to ensure that maps are fair.  
Since the decision in LWV NC v. Rucho where the Supreme Court barred partisan gerrymandering cases from federal court, the fight to ensure fairness in maps has been taken to state courts. The League has seen a rise in challenges under state law, and celebrated multiple victories in the past few months when courts agreed that districts maps violated either state or federal law.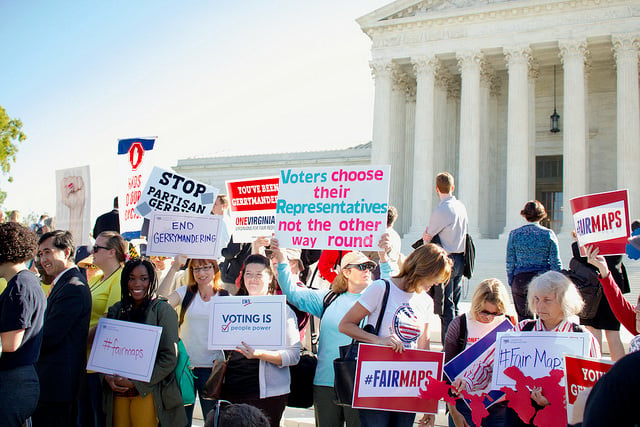 Recently, the League had two wins in Ohio in Adams v. DeWine and League of Women Voters of Ohio v. Ohio Redistricting Commission. Both lawsuits challenged maps passed by the state legislature that disenfranchised people based on their political party. The Ohio Supreme Court struck down the maps as partisan gerrymanders and asked the legislature to draw new maps.  
Michigan is another state fighting for fair maps. League of Women Voters of Michigan v. Kent County and League of Women Voters of Michigan v. Michigan Independent Citizens Redistricting Commission are two of our cases challenging the current maps as partisan gerrymanders. Both maps create unfair districts for voters on a county and state level.  
On the federal level, we're fighting a new wave of racial gerrymandering. These include cases filed in Atlanta, Georgia, and Baltimore, Maryland. As the BIPOC population in Atlanta has verged on outnumbering the white population, a gerrymander was created to protect the white, majority power in elections. LWV has filed a case focused on this gerrymander.
In Baltimore County, the proposed redistricting map created just one Black majority-minority district in a county with over 30% Black population, disempowering Black voters' ability to elect their candidate of choice. The League, with legal partners, opposed the map on the grounds of the Voting Rights Act (VRA) and its rules regarding minority vote dilution. In late February, a federal judge ordered the county to submit a new plan that complies with the VRA.
Reproductive Justice  
The League stays committed to protecting access to reproductive justice. In the past year, we joined amicus briefs in both Dobbs v. Jackson Women's Health Organization, the challenge to the Mississippi fifteen-week ban on abortion, and Whole Women's Health v. Jackson, challenging Texas's six-week abortion ban. Our amicus briefs highlight the hardships that these laws put on low-income women and women of color. 
---
While these lawsuits are the overall trends that we have seen in litigation, the League will continue to fight for voters whenever core issues arise such as voting rights, improving elections, redistricting/census, and campaign finance.  
The Latest from the League
On Sunday evening, the ACLU of Ohio, the American Civil Liberties Union, and Covington & Burling LLP filed a motion to intervene as defendants in a federal lawsuit, Michael Gonidakis v Ohio Redistricting Commission. The voting rights groups request that the Court stay this case pending final resolution of the proceedings before the Ohio Supreme Court.
People Powered Fair MapsTM is a national redistricting program of the League of Women Voters focused on creating fair political maps nationwide. The program includes actions in all 50 states + D.C. 
In the past year, the League has joined litigation to fight back against the flood of anti-abortion bills that have been put forward across the country.   
Sign Up For Email
Keep up with the League. Receive emails to your inbox!
Donate to support our work
to empower voters and defend democracy.