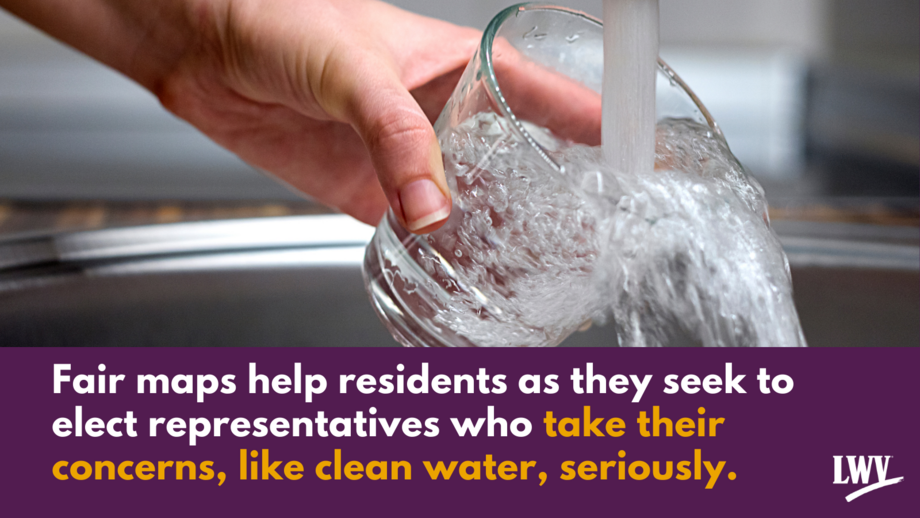 This blog was written by Helen Hutchison and Chris Carson of the LWV of California 
The League of Women Voters of California fought for decades to curb gerrymandering by setting up an independent redistricting commission—which puts the power of redistricting into the hands of the public, rather than politicians. In 2008, our efforts culminated in the passage of the Voters FIRST Act, which authorized the creation of the Independent Citizens Redistricting Commission. 
We are passionate about redistricting because it's about political power -- power that is often wielded in an underhanded way. The effects of redistricting can be subtle, long-lasting, and removed from an immediate, visible impact, so it can be challenging to explain, much less empower, communities to get involved. 
But once you see what an independent commission can do to give a voice to underserved communities and how it can divorce itself from partisan politics to empower people, you see what a powerful tool it is to advance democracy. 
As the People Powered Fair Maps program enters a crucial phase, it is worth stepping back and looking at one of its most important features: respect for communities of interest. This respect is central to building districts that empower residents to both engage with politics and elect officials who are responsive to their concerns.  
All too often, elected officials may even deliberately split neighborhoods and communities of interest to silence voices they don't want to hear.
Communities of Interest and Clean Water 
When redistricting is handled by elected officials, their top priority is often building a district where they'll get reelected rather than maximizing the voice of the people. This manipulation and watering down of voters' voices is called gerrymandering.  
All too often, elected officials may even deliberately split neighborhoods and communities of interest to silence voices they don't want to hear. Specific communities of interest may differ in detail, but the basic concept is that they're made up of people who live in an area and share common interests, such as voting rights, healthcare, or environmental concerns. One such concern is water quality. Access to clean water, the pollution of water sources in both urban and rural areas, the cost of water, and any governmental failures to address water problems may be part of the issues that connect and define a community of interest.  
In urban areas, decades of dumping industrial pollutants into the water table affects many neighborhoods. Parents may learn that their child's school was built on top of a site that is heavily polluted with oil extraction residue. Homeowners might learn that their community was developed on top of a dumping ground for battery manufacturers. Seniors could discover that their affordable mobile home park is the collecting basin for water from poorly maintained septic tanks. All too often, the people most impacted by environmental issues are people of color, agricultural workers, low-income seniors, and families who cannot afford to rent in neighborhoods with cleaner water. 
Fair Maps 
We care about our communities and know that achieving fair maps is the first step in accomplishing lasting change with both water-related and other issues. 
Fair maps help residents as they seek to elect representatives who take their concerns, like clean water, seriously, who will work to clean up current pollution and prevent more from occurring.
Fair maps help residents as they seek to elect representatives who take their concerns, like clean water, seriously, who will work to clean up current pollution and prevent more from occurring. Contrastingly, gerrymandered maps create districts where elected officials can safely ignore residents' concerns and continue to authorize redevelopment over polluted land or refuse to invest public money in infrastructure upgrades. 
In 2011, California's Independent Citizens Redistricting Commission addressed environmental issues, including issues around water. They were able to do so because the process allowed for public input, which revealed serious problems that strongly affected several communities, particularly those that were already underserved. As a result of public input, maps were drawn that recognized those issues.  
The 2021 commission, drawing on the work of the last one, has already taken testimony from members of the public highlighting environmental issues and how to best address them in its map drawing. This is a perfect example of how fair maps allow communities to focus on the issues that matter most to their members rather than their representing politicians. 
Our Work 
Despite this important precedent, the interests and needs of communities impacted by environmental issues, like polluted water, have been ignored for decades by elected officials due to systemic oppression. People are understandably skeptical of the idea that telling a commission about the problem is going to make a difference.  
This is why our partnerships are so critical. We team up with both individuals and organizations to engage people through trusted and genuine relationships. Beyond that, we're educating our Leagues at the local level so they can raise awareness that the quality of the water we drink affects us all.  
The League's commitment to justice – political, social, economic, and environmental – demands that we make the effort to engage all Californians, and residents in America, in speaking out and demanding fair maps. You can get involved by learning about the redistricting process in your state, preparing to engage in the map-drawing process, and joining your local League! Our 2021 Day of Action is dedicated to shining a light on the redistricting process and showing people how they can get involved – register for one of our many virtual events here. 
Another opportunity for action comes with the For the People Act  which helps curb gerrymandering which fights gerrymandering by requiring independent redistricting commissions. You can support the For the People Act here and encourage your friends and family to do the same. 
The Latest from the League
When district maps do not represent the people fairly, it prevents us from moving on issues that we care about – issues that can be a matter of life or death. One of these critical issues is healthcare.  
The For the People Act doesn't just make voting simpler—it makes voting fairer by outlawing the racial and partisan gerrymandering that keeps power in the hands of the few.  
On April 29, 2021, the League of Women Voters hosted events around the country to increase public awareness and engagement around the redistricting process, and make sure the public's voice is heard.
Sign Up For Email
Keep up with the League. Receive emails to your inbox!
Donate to support our work
to empower voters and defend democracy.