March 26th marks the anniversary of the landmark Rucho v. League of Women Voters of North Carolina (also known as Rucho v. Common Cause) Supreme Court oral arguments. This case challenged North Carolina's 2016 redistricting plan as an unconstitutional partisan gerrymander. The Supreme Court's ultimate decision, that federal courts cannot make determinations on partisan gerrymandering, would have major consequences for representation across our democracy.
The decision set the stage for federal courts to take a hands-off approach when it comes to the redistricting process, shifting the responsibility to states. Since then, the League has seen a rise in challenges under state law that continue to target communities of color through gerrymandering and unfair maps. When this happens, communities are not represented equally.
To fully grasp how this impacts voters, we spoke with Allison Riggs, who was front and center on the Rucho v. LWVNC case. In 2019, Mrs. Riggs was chosen to represent the plaintiffs and argued the case before the Supreme Court. Now, Riggs, who is now Co-Executive Director and Chief Counsel for the Southern Coalition for Social Justice, gives us her first-hand account of what happened in the courts.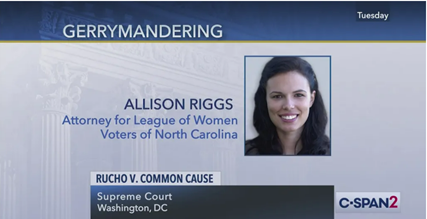 Ultimately, the Supreme Court ruled that gerrymandering based on political party was not unconstitutional. What does this mean for voters?
The case left it up to individual states to decide whether legislatures can use political data as a major consideration in the redistricting process, which would allow politicians in power to build maps that favor their campaigns.  For voters in states where partisan gerrymandering is permitted, it means they might lose or may have already lost fair representation.  
That meant we had to keep fighting — and we absolutely have, as evidenced by the latest round of redistricting litigation in North Carolina. But it hasn't just been about litigation. We've made sure to be holistic about our approach to redistricting education and grassroots advocacy across the South. Our efforts [at the Southern Coalition for Social Justice] include hosting informational tours, connecting with communities about their needs, teaching organizing, and supporting smaller groups working for a better democracy.
Arguing in front of the Supreme Court must be every lawyer's dream. Tell us about your experience. What's the process like?
It's an incredible honor, and it means so much to do it in a case that represents all of your goals and values. And representing the League of Women Voters was an absolute joy. I doubt there's any professional experience like it — it's a lot of work in a very compressed period of time, but to stand up for clients and causes you believe in and make those arguments is the privilege of a lifetime.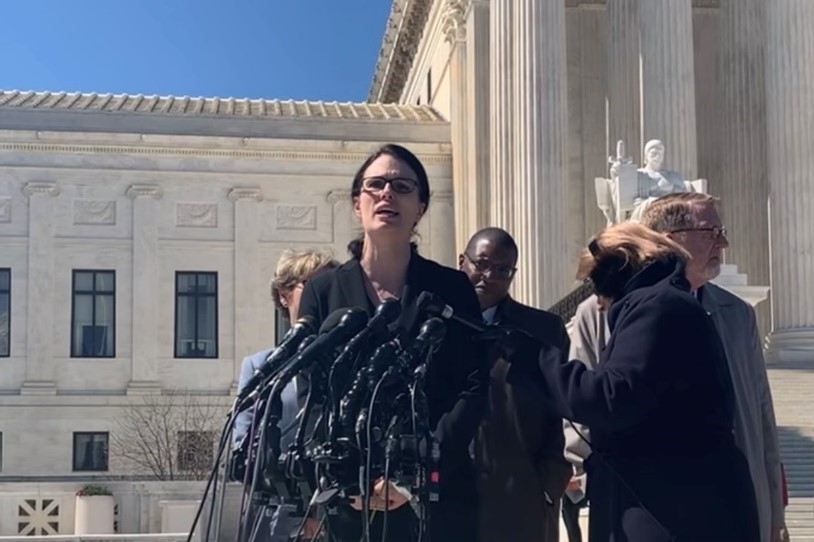 Tell us about your current work with the Southern Coalition for Social Justice (SCSJ). What made you decide to be a lawyer and focus on voting rights? 
I have worked my way up at SCSJ, starting when the organization was only two years old to serving as the co-executive director. I wanted to be a lawyer because I wanted to help craft policies to shape this country into what it can and should be. I believe deeply that the right to vote is the most precious of our rights, and the one that is most preservative of others. If we don't protect the right to vote, our ability to help shape every other policy in this country is undermined. 
Who were your career role models growing up? What advice would you give women who want to pursue a career in law and advocacy? 
 I've always been inspired by women who are leaders — from teachers to doctors: when women speak up, I think all others benefit.  
My advice for those interested in law and advocacy would be to try to always carve out space to do the work you love, even if it's not always the most well-paying. Also, make sure you're taking care of yourself along the way. You don't have to work for a non-profit civil rights organization to be doing important work. Just keep doors open, take opportunities as they come, and work to make the change you want to see in the world. 
---
As a nonpartisan organization, the League of Women Voters is committed to fighting racial and partisan gerrymandering and advocating for a fair and transparent process that produces the most representative maps. Through litigation, the League has been at the forefront of the most important federal and state cases across the United States and continues to fight for fair representation in district maps. In 2020 alone, we protected over 25 million voters through litigation, and in the past few months, we have celebrated multiple victories when courts agreed that districts maps violated either state or federal law. LWV will continue to hold our elected leaders accountable to protect voting rights for all — because our democracy depends on it.
The Latest from the League
The League filed an amicus brief in Rucho v. Common Cause at the U.S. Supreme Court. The League's case, Rucho v. LWVNC, is combined with this case.
People Powered Fair MapsTM is a national redistricting program of the League of Women Voters focused on creating fair political maps nationwide. The program includes actions in all 50 states + D.C. 
The case of League of Women Voters of North Carolina v. Rucho challenges North Carolina's 2016 congressional redistricting plan, arguing the plan violates the First and Fourteenth Amendments of the U.S. Constitution. 
Sign Up For Email
Keep up with the League. Receive emails to your inbox!
Donate to support our work
to empower voters and defend democracy.