WASHINGTON — The League of Women Voters of the United States is thrilled to announce the launch of its new Legal Center on the organization's website, LWV.org. The center showcases the League's legal work in federal courts from across the country.  
As one of the oldest voting rights nonprofits in the country, the 102-year-old organization actively pursues litigation that protects the right to vote, promotes fair and accessible elections, ends big-money corruption, and reinforces the dignity that people across the country deserve. 
Visitors to the Legal Center will find links to legal documents, press releases, case summaries, and timelines of major cases all on one page. Users can access the Legal Center under About Us in the LWV.org main menu.  
"Litigation is one of the many tools in our toolbox to empower voters and ensure that every one has equal representation in our democracy," said Dr. Deborah Turner, president of the League of Women Voters of the United States. "We are proud of the work we have done in the courts to protect the rights of all people."  
In 2020, the League pursued 77 cases with a 78% win-rate in federal courts. The League is poised to continue to make litigation a forefront of their advocacy work in the places where people are targeted most. 
"Through our litigation work, we put the spotlight on the issues that impact communities most," said Celina Stewart, Chief Counsel and Senior Director of Advocacy and Litigation for the League of Women Voters of the United States. "Litigation is one of our most important tools to achieve systemic reform that supports our mission to defend our democracy and protect civil rights in our country. 
The League of Women Voters invites visitors to explore the new Legal Center and review the important historic and active cases on our docket. Learn more about the League's Legal Center and view a user-friendly tutorial here.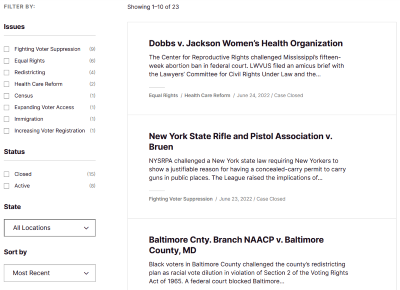 ###
Press Contact: Shannon Augustus | 202-768-9578 | [email protected] 
The Latest from the League
The new Legal Center on LWV.org showcases historic and active litigation where the League is fighting for voters' rights and civil rights in courts around the country.
The second lawsuit against the omnibus voter restrictions of HB 1878 seeks to protect Missourians' right to equal protection and the fundamental right to vote.
Jefferson City, Mo. -- Two nonpartisan civic engagement organizations sued the state of Missouri and Secretary of State Jay Ashcroft in Cole County Circuit Court to block provisions of one of the nation's most extreme laws restricting voter registration activity and distribution of absentee ballot applications. The law violates the right to core political speech by severely curtailing the ability to engage with voters. 
Sign Up For Email
Keep up with the League. Receive emails to your inbox!
Donate to support our work
to empower voters and defend democracy.