Last month, the Department of Justice and the Bureau of Alcohol, Tobacco, and Firearms published a long-anticipated final federal rule which closed a loophole around "ghost guns" in gun safety laws. Previous to the passage of this rule, ghost guns (firearms that lack serial numbers, making them untraceable) did not meet the legal definition of "firearms" and were therefore not regulated by common-sense gun laws. Now that the final rule has been published, the federal government has better tools to ensure the traceability of firearms. 
Why Are Ghost Guns a Problem? 
Ghost guns are highly prevalent in today's world. They can be 3D-printed, made from a kit, ordered online from an operation that assembles un-serialized firearms, or otherwise assembled from unserialized individual gun parts sold by companies online. Those who make, buy, and use ghost guns — some of whom may be restricted from carrying and using firearms — circumvent the gun licensing system, including background checks. 
Tell Your Senators to Act Against Gun Violence 
Without a serial number, ghost guns recovered from a violent incident cannot be traced to their original owner. There has been a concerning increase in the number of ghost guns recovered in crimes nationwide; the Giffords Law Center reports that 30% of all guns recovered by the ATF in California lack a serial number. The task of tracking trafficking patterns of these instruments is virtually impossible.  
State and Federal Regulation 
State action on ghost guns is key in building a robust national common-sense gun control framework. Eight states and territories currently restrict ghost guns, including California, Connecticut, Hawaii, New Jersey, New York, Rhode Island, Washington, and the District of Columbia.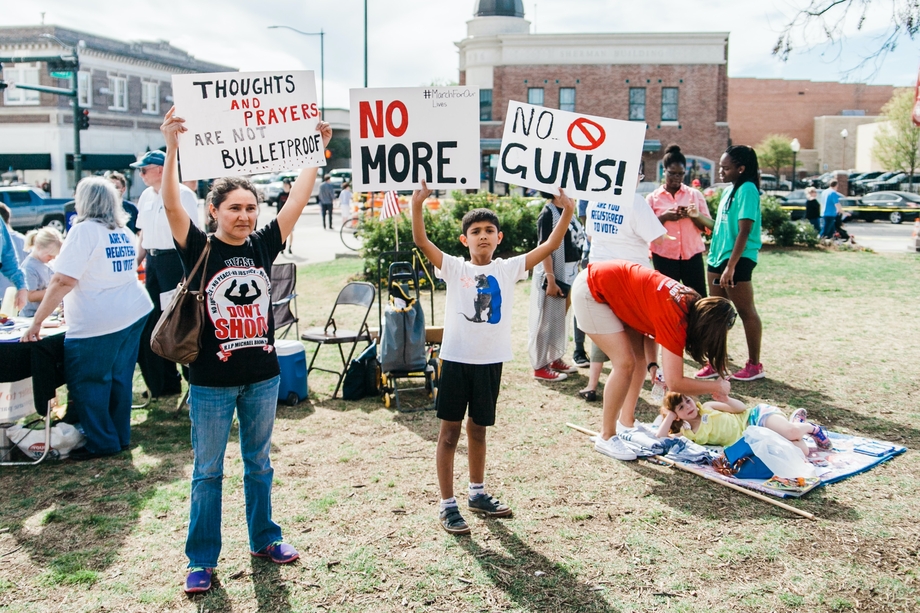 While the recent federal rule will address the sale of ghost gun parts, it won't help with the problem of existing ghost guns. State-level legislation could, among other things, require that individuals who currently possess guns without a serial number get them serialized so that they become traceable. Many states require a permit to purchase a handgun, limit certain gun purchases to once every 30 days, or impose a waiting period before a gun can be purchased. In most cases these state regulations did not cover ghost gun parts before this new federal regulation, underscoring the importance of effective enforcement of strong regulations on ghost guns and gun parts.  
What You Can Do About Ghost Guns 
One way to engage on this issue is through state and local level government. Many state Leagues have information on their websites about state-level gun control legislation and their positions on gun rules. Everytown For Gun Safety also has a state tool for solutions on gun control. Although the new federal rule and future federal gun control laws are key to improving public safety, state-level laws are an important part of a complete gun control framework. Now that the federal government has made it clear that ghost guns should not exist and all firearms (and firearm components that can easily be made into a functioning firearm) should be appropriately serialized and traceable, state-level laws have greater leverage to enforce new and existing gun control laws. 
The League of Women Voters supports the new federal rule as a commonsense firearm regulation that ensures the traceability of guns to make our communities safer. LWVUS has long supported strong federal measures to regulate handguns and semi-automatic assault weapons through licensing procedures for gun ownership by private citizens including waiting periods, background checks, personal identity verification, gun safety education, and annual license renewal.  
The publication of the federal rule which closes the loophole on ghost guns is one step toward improving public safety, but public policy still has more work to do to address the gun violence epidemic in America. Demand that your Senators pass HR 8, the Bipartisan Background Checks Act, to save lives today. 
The Latest from the League
BUFFALO, NY & WASHINGTON — The League of Women Voters of Buffalo-Niagara, the League of Women Voters of New York State, and the League of Women Voters of the United States issued the following statement on the mass shooting in Buffalo, New York: 
On November 3rd, the Supreme Court heard oral arguments in the case of New York State Rifle and Pistol Association v Bruen, marking one of the first times that the Supreme Court will address the scope of the 2nd amendment since 2008. Their decision will hav a significant impact on election safety. 
LWV of Boulder County, LWV of Colorado, and LWV of the United States grieve the senseless tragedy in Boulder, Colorado, on Monday, when a man armed with an assault rifle shot and killed ten people at a grocery store.
Sign Up For Email
Keep up with the League. Receive emails to your inbox!
Donate to support our work
to empower voters and defend democracy.