Rachel Appel also contributed to this article.  
With less than 60 days until the November election, it's time to start making your plan for how you will cast your vote safely and securely on or before Election Day. A voting plan is your playbook for what you will do to cast your ballot for the upcoming election.  For some, it may mean getting up early to go to the polls in person, taking time off from work, or taking advantage of local early voting locations. Creating a voting plan that gives you options and a backup in case you can't make it to the polls on Election Day is a benefit for all voters that makes participation easier.  
If you're are unable to access any of the in-person voting options, one of the best ways you can participate is to vote absentee or by mail. This year, more Americans than ever will be using these methods to vote in upcoming elections, and so it is important to understand the similarities and differences between the two.   
While vote-by-mail and vote absentee are often used interchangeably, there actually is a difference between the two systems. We're here to break down the terms so you know exactly what to do to make your voice heard and participate in the election this November. 
Absentee and Vote-by-Mail 
The biggest difference between "absentee" and "vote-by-mail" is whether a voter has to request a ballot be sent to them. States that use an absentee voting system require voters to ask via mail or email for a ballot, and are usually required to state a reason for why they are unable to vote on Election Day, while a state that uses a vote-by-mail system proactively mails a ballot to every registered voter, without the voter needing to ask for it. Most states that have vote-by-mail systems and all states that offer absentee voting have in-person polling places for those who want or need to cast their ballot in-person early or on Election Day.  
Many states that have absentee voting require "excuses" for why you're requesting an absentee ballot and can't show up in person to vote on Election Day. Some acceptable excuses include being out of the country on Election Day, having an illness or a disability, or working during the voting hours. The map below shows a breakdown of states where you will need to request a ballot be sent to you (marked as either "excuse required absentee" or " 'no excuse' absentee") and states where voters can automatically expect to receive their ballot in the mail (marked as "vote-by-mail"). Be sure to check VOTE411 to learn what excuses are allowed in your state to vote absentee if you do not live in a "no excuse" absentee state.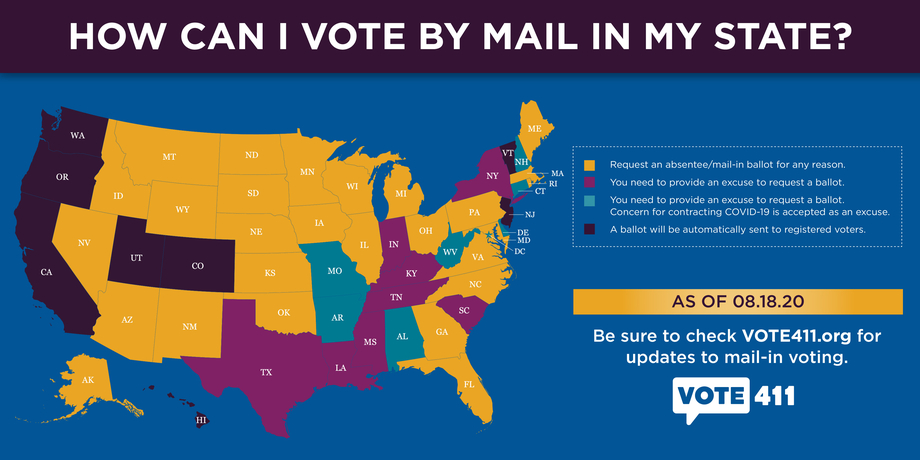 Returning Your Ballot 
All states allow voters to return their ballots through the mail, and some states have other options too. Eleven states (Arizona, California, Colorado, Hawaii, Kansas, Montana, New Mexico, North Carolina, Oregon, Utah, and Washington) and D.C. allow voters to drop off their ballots at any in-person voting location in the county, while Vermont and New Hampshire allow voters to drop off their ballot in-person at their assigned voting location.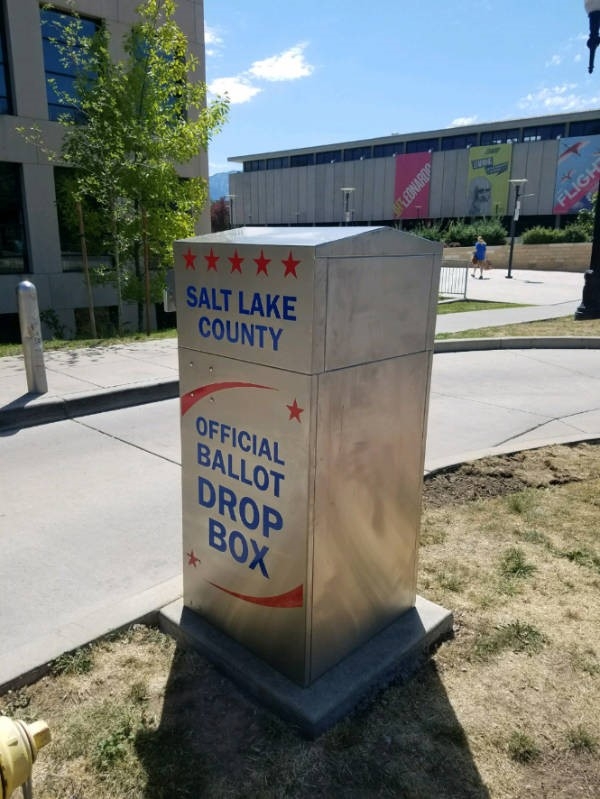 In addition, some states have secure drop boxes stationed around the state, like the one pictured, that voters can walk, bike, or drive up to and drop off their ballot. The drop boxes may be supervised by election workers or others may have security features, such as cameras. 
Eleven states (Arizona, California, Colorado, Hawaii, Kansas, Montana, Nebraska, New Mexico, Oregon, Utah, and Washington) have permanent laws that allow voters to use ballot drop boxes in some or all counties. In addition, other states and counties are adding drop boxes for the 2020 election. Be sure to check with your local election office to find out if there is a dropbox near you. 
Act Early! 
Now that you know whether you're in a state where you need to request your ballot be sent to you (absentee voting), make sure you make that request as soon as possible. The League's one-stop-shop for voting information, VOTE411 will also tell you the deadline for when your ballot must be received by the appropriate election administrator. Since the U.S. Postal Service is handling a surge in the amount of mail this year because of COVID-19, it's best to send in your ballot EARLY. We also ask that you take a quick moment to call your Representatives and Senators and ask them to provide critically needed funding to Postal Service. Here are some talking points you can use in your call/emails to talk about the Postal Service.  
We know many voters are seeking to cast their ballot via mail this year because they do not want to risk their health in order to vote. Leagues across the country have been actively working to expand absentee voting during the pandemic, and LWVUS is urging Congress to provide funding to safeguard our elections. No matter what your voting plan looks like, the League is committed to making sure that all voters will have options to vote safely and have their voices heard.  
The terminology isn't always perfect
We hope the terms "absentee" and "vote by mail" seem clearer as we've laid out the differences between them. However, you may still come across states and Elections Boards using them interchangeably. Despite the differences, why do they still get jumbled? One reason might be to prevent voters from getting confused and using terms that are more familiar. The term, "No Excuse Absentee Voting," which would mean that any voter may request a ballot without having a to provide a documented reason, might come up as "Vote By Mail" or "Mail-In Voting." This could be done to make the rules around no excuse absentee to voters clearer, signaling to them that they will be able to participate in an upcoming election by requesting and casting a ballot via mail.
Additionally, we cannot forget to acknowledge the unique circumstances we are operating under as this year. More voters will be casting mail-in ballots, and, as a result, many states have had to readjust their rules around absentee ballots to make it easier for people to participate. Traditional absentee ballot rules are changing to accommodate the health and safety of voters, and thus these unfamiliar circumstances may not always result in consistent messaging across the board. Whatever term your state is using to describe their mail voting process, we encourage you to use VOTE411.org to familiarize yourself with the rules in your state, and to make a voting plan for the election.
Sign Up For Email
Keep up with the League. Receive emails to your inbox!
Donate to support our work
to empower voters and defend democracy.