As we celebrate Pride Month this June, we can never forget that LGBTQIA+ rights need continual support and activism. Sadly, through the past year, we have seen a range of devastating anti-LGBTQIA+ bills across several states.   
Recent Anti-LGBTQIA+ Legislation 
In March 2022, Florida passed HB1557, otherwise known as the "Don't Say Gay" bill. This law prohibits teachers from teaching or talking about anything relating to the LGBTQIA+ community.  LGBTQIA youth already face higher health and suicide risks than cisgender and straight students. Creating an environment that ostracizes these youth will only further damage their wellbeing. 
Meanwhile, Texas Governor Greg Abbott directed the Department of Family and Protective Services to investigate any parents who provide gender-affirming care to their transgender children as child abuse. The Texas Supreme Court upheld the governor's authority to issue his views on the topic, but that the Department was not required to follow it.  This has led to many parents being fearful that providing support and gender-affirming care to their child will be seen as abuse and the state will retaliate against them.  
We have reason to believe additional rights may be threatened. This past month, the Supreme Court overturned the constitutionally protected right to an abortion established in Roe v. Wade in 1973. This decision threatened the erosion of critical cases such as Obergefell v. Hodges (establishing a constitutional right to marriage equality), Lawrence v. Texas (establishing a constitutional right to engage in consensual private sexual activity), and Griswold v. Connecticut (establishing a constitutional right to contraception)  The undercutting of these rights would have a devastating impact on millions of people across the country. 
Legal Efforts to Protect LGBTQIA+ Rights 
Currently, the Equality Act is in front of Congress, where it has passed the House and is currently in the Senate. This legislation would create federal protections for those in the LGBTQIA+ community by providing that home loans, rental properties, and medical care cannot be denied due to a person's sex, sexual orientation, or gender identity. Additionally, businesses would be prohibited from refusing service on those bases. This comprehensive federal law will ensure that there are consistent legal protections across the country rather than the patchwork protections that are currently present.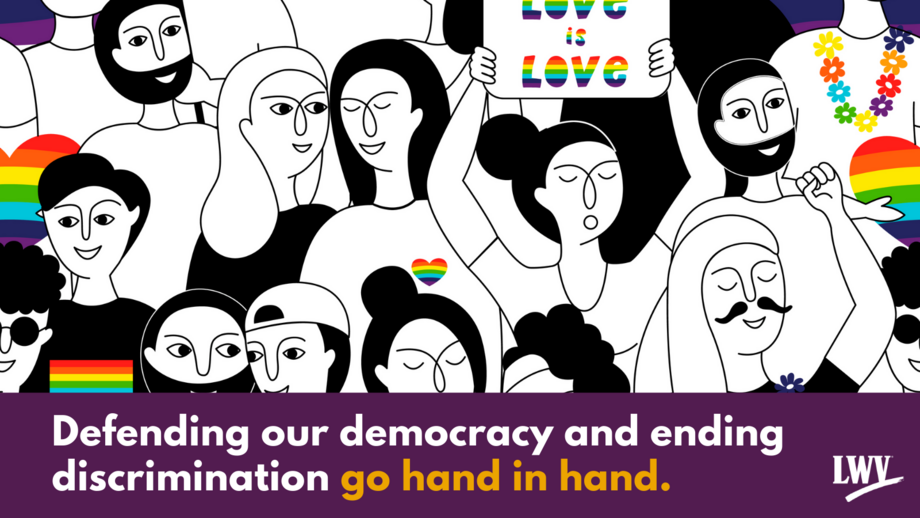 In the past few years, the League has filed amicus briefs in cases involving key issues in the fight for LGBTQIA+ rights, including Bostock v. Clayton County, Fulton v. City of Philadelphia, Hecox v. Little, and Adams v. School Board of St Johns County. Bostock considered whether Title VII's prohibition on sex discrimination in the workplace covered LGBTQIA+ workers. The Supreme Court ultimately ruled that the provision does prevent discrimination against the LGBTQIA+ community.  
In Fulton, Catholic Social Services challenged the city of Philadelphia's anti-discrimination requirement for government contracts. Their contract with the city was denied after the organization refused to place children in the foster system with LGBTQIA+ parents. The Court ultimately ruled in favor of Catholic Social Services and said that the city was wrong for denying their contract. Fortunately, the ruling was not as broad as it could have been, but the ruling was a major setback for anti-discrimination policies.  
In Hecox, students are challenging Idaho's Fairness in Women's Sports Act, which prohibits transgender women and girls, intersex persons, and non-binary people from participating in school sports. The law was introduced by a state representative who alleged that the mere participation of transgender girls and women in sports is a "threat" because of the "inherent, physiological differences between males and females." Our amicus brief highlights the harm that gender testing does to the transgender community and how it has been used to harm communities of color who do not fit the Eurocentric definitions of femininity. The case was sent back to the District Court and is currently awaiting a decision.  
In Adams, our brief was filed in support of Andrew Adams, a transgender boy who was denied access to the boys' restroom at his middle school in Florida. The lower court's opinion upheld protections for the student and the case is currently on appeal at the Eleventh Circuit. Our amicus brief explains the harm that comes from denying transgender children gender-affirming treatment.   
How You Can Stand Up for LGBTQIA+ Rights 
The League will continue to stand and fight for the rights of the LGBTQIA+ community. You can do so as well through some of the following methods: 
Educate yourself on LGBTQIA+ rights and history with resources like: this glossary of terms related to sex and gender identity; info on the history of the pride movement in the US; this guidance on creating a safe space as a parent of LGBTQIA+ children.

Support people and organizations that advocate for LGBTQIA+ people, like the Trevor Project, the It Gets Better project, and GLAAD.

Learn about proposed legislation in your community and how you can promote equality within your state or local League.
The Latest from the League
In the past year, The League signed on to numerous amicus briefs to defend the LGBTQ+ community from the wave of attacks on their rights. Many of these cases could set a precedent for discrimination against both LGBTQ+ and other marginized groups.
On November 4, the Supreme Court will hear oral arguments in the next pivotal LGBTQ rights case. 
The League of Women Voters is dedicated to ensuring equal rights and equal opportunity for all. This commitment led to LWVUS joining the legal challenge to Idaho's Fairness in Women's Sports Act which prohibits transgender women and girls, intersex persons, and any non-binary person from participating in sports.
Sign Up For Email
Keep up with the League. Receive emails to your inbox!
Donate to support our work
to empower voters and defend democracy.