This blog was written by Lora Lucero of the League's Climate Action Group
A concerted global effort is needed to fight climate change, yet global commitments to reduce carbon emissions are inadequate and slow. Climate scientists warn that our goal of limiting global warming to 1.5 degrees Celsius above pre-industrial levels requires that greenhouse gas (GHG) emissions peak by 2025 and then drop. Yet current policies and promises get us only to just less than three degrees Celsius by 2100.
Local, regional, and state efforts are needed to step up the pace. Local governments have an important responsibility to move our communities in the right direction. And that requires a plan.
How Local Governments Can Cut Emissions
The League of Women Voters Climate Interest Group conducted an exhaustive study of dozens of climate action plans from cities and counties throughout the country. We listened to experts in the fields of transportation, planning, and energy efficiency to identify the most effective actions and processes needed in a plan to reduce emissions.
The result of the team's work is summarized in the graphic below, which features ten key actions. The most important one is to move away from fossil fuels and go electric wherever possible. Also critical is reducing our dependence on personal vehicles.
Perhaps even more important than the actions are the processes that will hold us accountable. Key among these is setting measurable goals and holding accountable those responsible for them. All plans will need specific next steps and funding. And plans must be integrated into the local government's priorities to ensure successful implementation.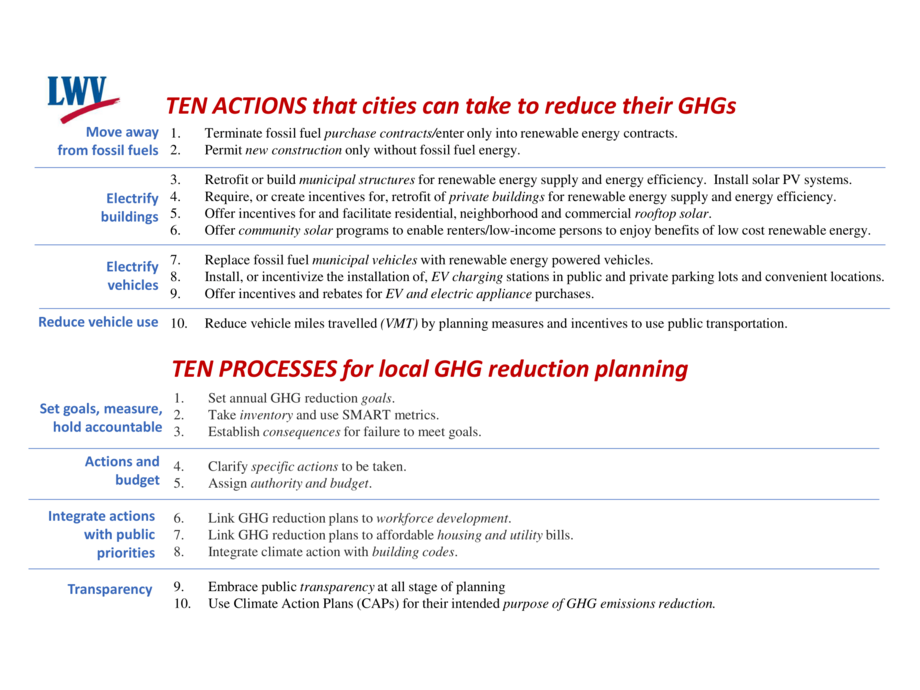 As everyday citizens, we can get involved in fighting climate change at the local level.
We encourage you to promote the above actions and processes when engaging with your local government around climate action planning and any decisions that affect greenhouse gas emissions. Make your voice heard on energy policy by writing to your representatives or sharing the above graphic with your communities.
A strong democracy requires informed climate action – and the time to act is now. 
The Latest from the League
In November 2022, the League sent delegates in person and virtually to observe the COP27 Climate Change Conference in Sharm El-Sheikh, Egypt. Experts highlighted ways in which climate change disproportionately affects women and girls, who are insufficiently represented in climate change response decision-making. 
We are still awaiting meaningful action on climate in Congress, and remain hopeful that members of Congress will see that climate change doesn't exist in a silo — it is inextricably connected to many other issues, including our economy. Shifting from a linear to a circular economy is one potential path for mitigating the risk of climate change.
Even if you live a thousand miles from the nearest coast, oceans —which make up nearly seventy percent of our blue planet — affect your life. As human carbon emissions warm our atmosphere, the ocean absorbs both CO2 and heat, buffering us from the worst effects of our excess. But giving us that protection has changed the oceans we depend on.   
Sign Up For Email
Keep up with the League. Receive emails to your inbox!
Donate to support our work
to empower voters and defend democracy.