middle-center
Why It Matters
Election rules differ state by state and sometimes change from year to year. Using VOTE411.org, voters can confirm their polling location, check if ID is required, and see what their personal ballot will look like.  Confirming this information before heading to the polls saves voters time and helps them make informed decisions. 
What We're Doing
We have long been a trusted source of objective and nonpartisan election information. Since 2006, VOTE411.org has served tens of millions of voters. By entering their home address on VOTE411.org, voters can see ballot questions they will be voting on, compare candidate responses to League questions, and much more!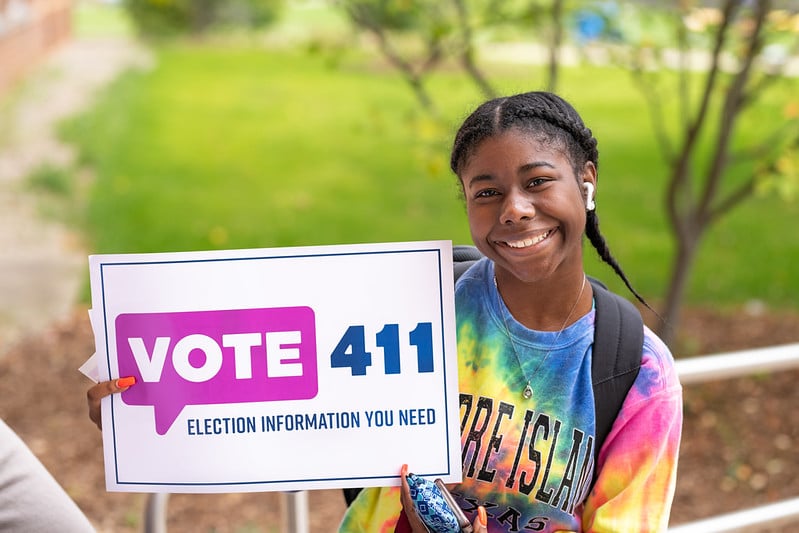 Find election information you need at VOTE411.org

Support our work to empower Americans with knowledge

Spread the word about VOTE411 by sharing this page with your friends and family on social media
Join one of our 700+ state and local Leagues to get involved with VOTE411.
Latest from the League
The League of Women Voters Education Fund announced today that VOTE411.org, its one-stop shop for election information, has won three Telly Awards. The Telly Awards honor excellence in video and television across all screens.   
This executive order will expand voter access, strengthen voter registration, and improve election information so that all eligible Americans can participate in our democracy.
Today, there is a critical runoff election in Georgia! Two US Senate seats that will determine control of the Senate and a Public Service Commissioner position are on the ballot. 
Stay Updated
Keep up with our work to share essential voting information. Receive emails to your inbox!
Donate and support our work
to share essential voting resources