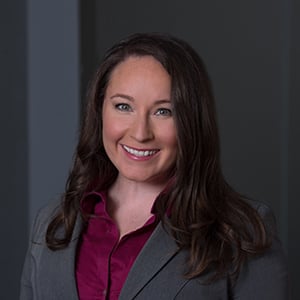 Chief Communications Officer
Sarah Courtney is the Chief Communications Officer of the League of Women Voters of the United States, where she leads a team of skilled communicators and marketing experts working to advance progress in democracy and elections.  
Since 2016, Sarah has overseen the communications department at the League and is responsible for the organization's digital presence, brand identity, media relations, and member communications. During Sarah's tenure at the League, she has played an integral role modernizing and reshaping the organization's brand and reputation. Under her leadership, the LWVUS communications team works to increase the League's visibility and ensure the organization's brand and leadership in the voting rights space are suited to the challenges facing democracy in the 21st century. 
As a voting rights expert and communications professional with more than 15 years of experience in journalism and public relations, Sarah's leadership ensures a unified and consistent voice across the organization's communications channels. Under Sarah's direction, the League has won multiple awards for website development and public service video production. Sarah has expanded the League's communications operation from a single person to a dynamic and integrated team advancing the League's mission through traditional media, digital engagement, and marketing to broad audiences. 
In March 2023, Sarah was named to the Women We Admire Top 50 Women Leaders of DC. 
Prior to joining the League, Sarah consulted for a number of mission-driven businesses and nonprofit organizations, developing communications strategies and providing media relations support. Sarah started her career in journalism and was a television producer for multiple TV networks, where she covered election politics, Congress, and the White House.  
Sarah's passion for voting rights started early in her life, and she credits her parents for instilling in her the values of community service and civic engagement. Sarah holds a bachelor's degree in Communication from Fairfield University, where she also minored in Film and Television. Sarah lives in Washington, DC, with her husband and daughter.