Each year from September 15 through October 15, we celebrate National Hispanic Heritage Month. During this time, we honor the significant contributions of Hispanic Americans and the rich, diverse Hispanic and Latino cultures.  
Most of us know or have heard of the Latino trailblazers like Cesar Chavez, Dolores Huerta, and Sylva Rivera – but we sometimes forget to highlight the youth activists who are currently fighting for a better future. In this blog, we highlight one such leader, climate change activist and co-founder of Zero Hour, Jamie Sarai Margolin.   
Tell us more about your background. How did you get involved in your activism work?  
JM: I was born in Valencia, California, and for the two years I lived there I was surrounded by my mom, dad, abuela, tia — the whole family, but then my parents moved to Seattle, which is where I grew up.  
Growing up in Seattle had a huge impact on me; it was where I saw nature around me constantly. The mountains, the trees, the Pacific Ocean — I grew up with an immense connection to all of them. I got involved in organizing when I was 14 years old and volunteered at my local Seattle campaign headquarters. I became the youngest intern there, translating English-Spanish phone calls when the office got questions on how to vote from callers who only spoke Spanish, and training other volunteers on how to canvas to get out the vote.  
Around the time I turned 15, I got involved with a local organization called "Plant for the Planet" (now known as Climate Action Families). I participated in lobby days with the organization. We lobbied at Olympia, Washington's Capitol. We pleaded with politicians to take action on the climate emergency, but there were always excuses.  
In terms of how Zero Hour started, I had a vision of youth across the US and the world marching for urgent climate action.
We tried our best to make a change. In terms of how Zero Hour started, I had a vision of youth across the US and the world marching for urgent climate action.  
At the time, I was nervous to take on the enormous task of starting a mass movement. Then came the summer of 2017, a summer full of natural disaster after natural disaster. Thick smog covered Seattle thanks to stronger-than-usual wildfires up north in Canada.  
That was when I finally decided to take action. I had social media friends like Nadia Nazar, who was willing to take the plunge. Madeline Tew and Zanagee Artis also joined – friends from Princeton camp, who are now two core team leads.  
For a while, we did tons of visioning and brainstorming — struggling to find our footing. Soon we brought on adult mentors and reached out to frontline communities who we knew had to be at the center of the movement, like some of the youth from the Standing Rock tribe who famously let the #NODAPL fight. They were super excited by the idea, and some of the youth, like Tokata Iron Eyes and Danny Grassrope, ended up speaking at The Youth Climate March in Washington DC on July 21st, 2018. 
Since then, we've organized many actions, lobby days, and protests, and have expanded into a full-fledged organization. Zero Hour is not a movement that happened overnight at all. It took grueling hours and hours every day of slow but gradual movement building, and it still does. 
When you think of your heritage, what comes to mind? 
JM: I am Colombian on my mother's side, Jewish on my father's side. On my father's side, the name is Margolin. On my mom's side, the family name is Mendez/Rojas. We are "mestizos". My family is mixed with Spanish heritage and Colombian Indigenous heritage, but the indigenous cultures have been lost and diluted in the process of becoming "mestizo".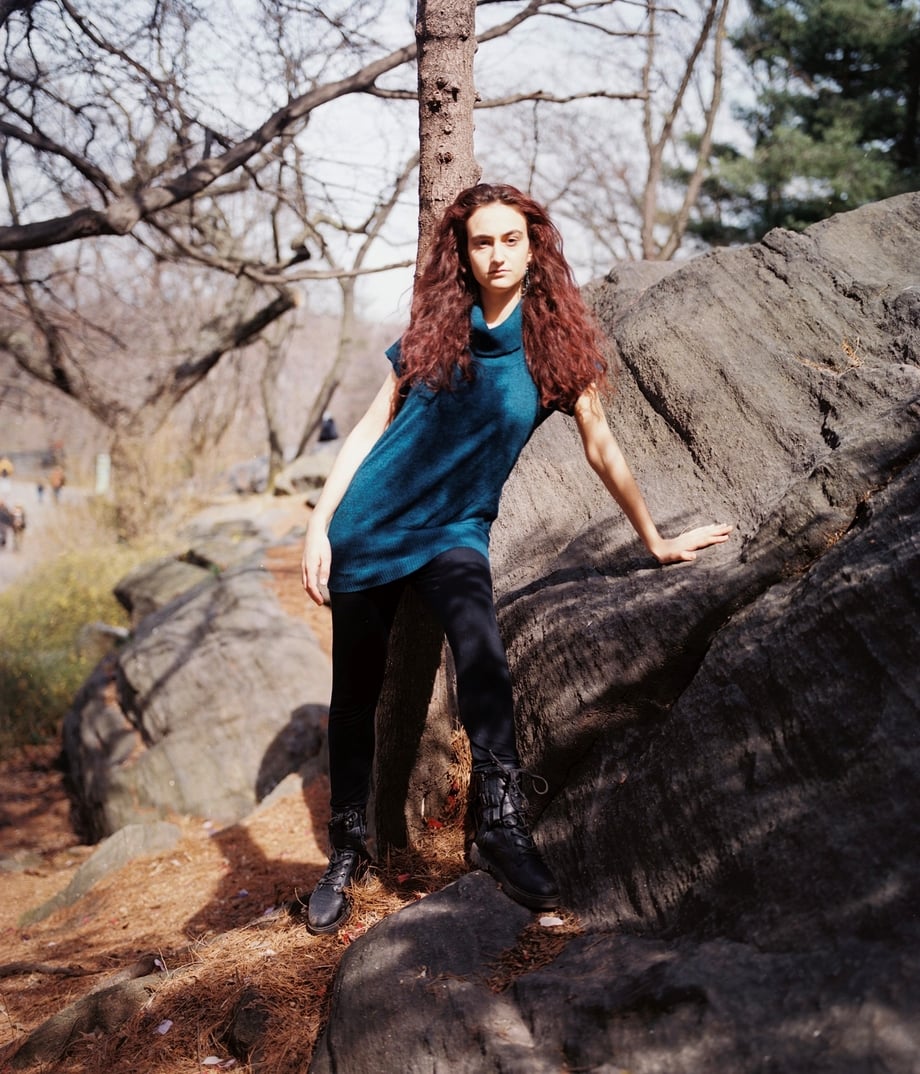 Over the course of centuries of Spanish subjugation, the colonial project of "Mestization" encouraged people to leave behind their local languages, cultures, religions, adopt Christianity, and become a part of the "general culture" of Latin America. So my family adopted Christianity long ago, and lost ties to the original indigenous cultures of the region — but a respect for land, the earth, and nature was never lost, at least not by my abuela.  
My abuela grew up as a campesina, living off the land in a rural community in Cachipay. Growing up, she would tell me about how all the trees and crops grew on the land her family lived on without a drop of a single pesticide — the soil was so fertile there wasn't a need for intervention. She'd often lament to me how things had changed so much since she was a little girl, how the food had changed, how now everything was so polluted, and there were too many chemicals, too much human intervention. She'd tell me how when she was a little girl, all you did was put a seed in the soil, and it grew.  
How did your heritage inform your activism?  
JM: My abuela's care for nature and her stories of growing up in el campo have played a huge role in shaping my activism. That inherent love, care, and connection to the plants, flowers, birds, the whole world around me, that attunement to it, I learned from my abuela, Lucila. 
 She lived with me and my family growing up when I was little, helping my mom with childcare, so in my early childhood, I was always around her. My mom and my tias and tios have nicknamed her "doctora Lucila" because whenever anyone in the family had an ailment, she'd brew together something with natural ingredients from different plants and spices to help. I learned that plants are sources of medicine and that the earth and nature have a lot of knowledge and healing to share with us. My abuela loves flowers and taking care of plants, she always pesters my mom to keep more flowers in and around the house, and while my abuela is much better at keeping plants alive than I am, that love and respect for nature were passed on. 
The League's Work with the Environment
If you can give one piece of advice to someone of Hispanic or Latino heritage who wants to better our democracy – what would it be?   
JM: Learn the history of the Latin American country that your family comes from, the indigenous peoples of the area, and the current battles over land and autonomy happening in these respective countries.  
The fight to protect our planet is happening on the frontlines in many countries all over Latin America — especially in the countries that contain the Amazon Rainforest. Communities defending their land and our planet face an immense amount violence for defending their territories from extraction.  
In 2020 Colombia was the deadliest place to be an environmental activist in the world, but it's not the only dangerous place, Mexico and Brazil also have very high rates of environmentalists being targeted for their work. Land defenders all over the world are being killed, and this violence must end. I think we all must play a part in standing with land defenders to protect their territories, and I highly encourage people to do research on the ongoing colonial/corporate violence happening all over Latin America and send our resources and support to those on the frontlines resisting. I encourage people to follow the work of Mujeres Amazonicas and other local collectives protecting their land and forests. 
_________________________________________________
Here are a few actions you can take  
The Latest from the League
The world of democracy and voting rights is no different. Last week, we highlighted just a few of the change-makers that allow organizations like the League to exist today. Now, we'd like to highlight a few that we know very well: members of Team LWV.
Hispanic Heritage Month (Sept. 15 – Oct. 15) is a time to recognize and celebrate the achievements and contributions of Hispanic and Latina Americans. This month, I want to highlight four trailblazers who've fought for the rights of women and paved the way for the next generation of civil rights activists.   
Sign Up For Email
Keep up with the League. Receive emails to your inbox!
Donate to support our work
to empower voters and defend democracy.