Right now, our country can advance and protect our right to vote by passing the Freedom to Vote Act, the John Lewis Voting Rights Advancement Act, and DC Statehood. While these bills ensure a democracy that works for us all, there has been stagnation in the Senate due to the Jim Crow Era filibuster.
Together, Leagues across the country are demanding action.
League Members Send a Message to President Biden
From August through November, the League, in partnership with our allies, showed up in front of the White House to demand the Biden administration do everything in its power to pass these historic voting rights bills—including by fixing or nixing the filibuster.
League members showed up in bigger numbers and bolder ways each time we took action at the White House. Dozens of members flew in from around the country from states including, but not limited to, Arizona, California, and Illinois, to take action. Many brought their friends and family with them to share and take in these moments. League members marched, held signs, and joined in chats. Members from Baltimore organized a busload of people to come to participate in the protest. Others volunteered to protect the ever-growing crowd of attendees. By the final action on November 19, over a dozen members — from Virginia, Maryland, DC, New Jersey, and elsewhere put their bodies on the line for voting rights and were arrested for their conviction.
As Becky Simon, President of LWV of Naperville put it, "I was proud to be there because that is the mission of League of Women Voters — defending democracy. We were standing just down the sidewalk from where the Silent Sentinels stood.  We owe it to them to continue their work."
Nikki Tyree of LWV of Maryland added, "On November 3 I was arrested, not just for the sake of my voting rights, but for ALL Americans. The Freedom to Vote Act would ensure this right while also preventing self-serving politicians from gerrymandering their states to influence elections."
The League stands on the side of voters. Many people showed up not just for themselves but for the people and communities who could not be there in person — and whose voting rights are most threatened.
Our Advocacy Is Working
Our senators and the Biden Administration see and hear us — literally, the White House could HEAR us outside when we showed up in protest.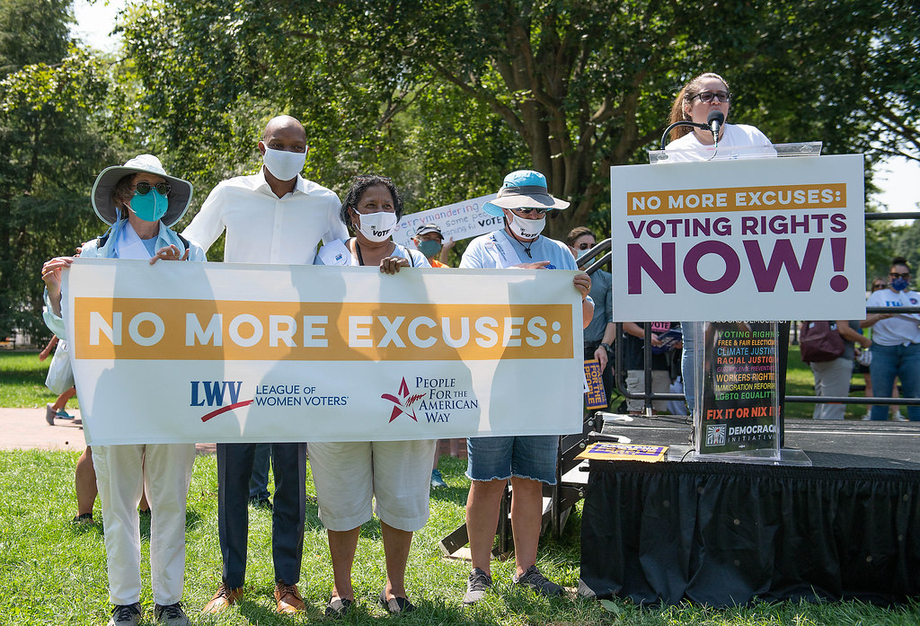 That's as it should be. Our elected officials work for us and it is important both we and they remember that.
The Biden administration also received thousands of letters from folks who participated in our efforts from home, demanding that our leaders do more to support federal voting rights legislation. These letters came in, just like those taking action, from all across the country. League members from Utah to Tennessee to Vermont put pen to paper to make their voices heard.
After every single action, the Biden Administration was asked why they weren't keeping their promises and prioritizing voting rights. In November, the Biden Administration was moved to comment on the filibuster and how it stands in the way of progress. This was in no small part thanks to our protests and League members from coast to coast.
What's Next?
As LWV of Seattle-King County and LWVEF board member Liz Bander said upon her arrest in one of our actions, "[T]his is about our shared future. Voting rights are foundational to democracy."
Right now, states are using census data to redraw district lines — a process that is vulnerable to manipulation but can be protected through the passage of the John Lewis Voting Rights Advancement Act (VRAA). Supporting this legislation will continue to be a major priority for the League.
Next year we'll have midterm elections; just as the VRAA will protect our maps, the Freedom to Vote Act will eliminate barriers to voting that disproportionately impact communities of color, particularly Black and Indigenous communities. We will continue to advocate for these essential bills to be passed in 2022. 
We know this work will be powered by our members from state and local Leagues, from highly populous states to tiny townships.
Our numbers and actions from Leagues all over the country will only grow.
We will not stop until we see the action we need. Join us and tell the White House they must protect voting rights now! 
The Latest from the League
Hundreds of voting rights activists escalated demands for the White House to act on voting rights today, in an action that resulted in the arrests of more than 200 participants.
League of Women Voters of the US Board President Dr. Deborah Ann Turner issued the following statement in response to the Senate's first floor vote on the John Lewis Voting Rights Advancement Act.
Wednesday, Oct. 20, the Freedom to Vote Act came up for its first ever vote on the Senate floor. However, the bill failed to reach the 60-vote threshold needed to move forward, hitting a procedural roadblock on its way to protecting our democracy and expanding the voting rights of every American. 
Sign Up For Email
Keep up with the League. Receive emails to your inbox!
Donate to support our work
to empower voters and defend democracy.