Today marks 50 years of celebrating Earth Day, a day meant to inspire all Americans to celebrate the living organisms that make up the environment around us and generate action to protect the planet. Since the founding of the League, we have been focused on protecting the environment and we continue to do important work in this area. The League was at the forefront of efforts to protect air, land, and water resources in the 1960s and 1970s when the move to create Earth Day began.  The creation of Earth Day in 1970 brought together leaders from all political parties, economic backgrounds, communities, and interests. It also led to the creation of landmark legislation like the Clean Air Act, Clean Water Act, and the Endangered Species Act. These laws have protected the public health of millions of Americans by setting standards to keep our air and water clean, and are now used in the fight against climate change and the human impact on our changing world.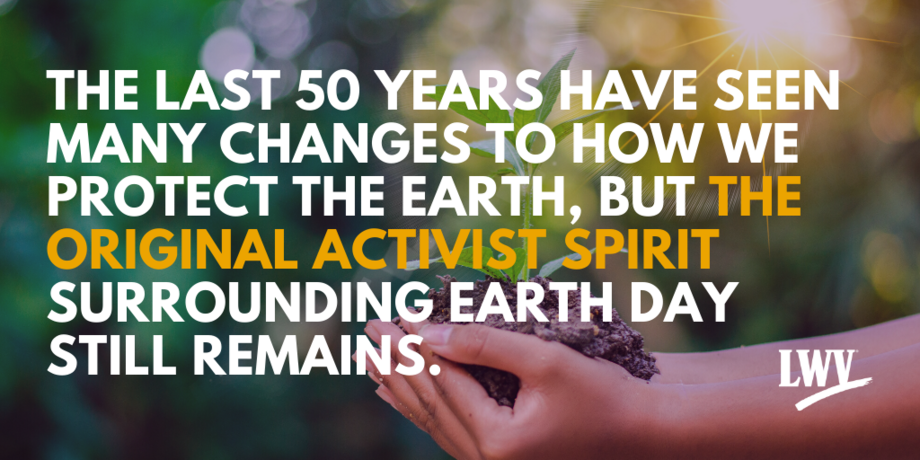 The last 50 years have seen many changes to how we protect the earth, but the original activist spirit surrounding Earth Day still remains. Every year, this day is an opportunity to take action to enact policy changes at all levels of government and make personal changes to our behavior that will create long-lasting global effects. 
In keeping with this tradition, we want to highlight a few things you can do to help save the earth.
How you can celebrate 50 years of Earth Day
Contact your elected officials and tell them we need to do more to protect the planet. Individuals hold the power when it comes to asking elected leaders to support or oppose legislation or policies that will protect the planet and stop the human effects on climate change.  
Volunteer with a local organization that is addressing environmental or climate change in your own community. Local actions can have a big chain reaction, so get involved with an organization close to your home that will work to make your community a cleaner and safer place to live.  
Change your personal habits and take responsibility for your carbon footprint. Think about the effects that our cars and other transportation sources have on the air and water around us while considering your food sources, and where you buy the things that sustain your life. The distance these things travel, and the sustainability of products, can have a huge impact on the planet. 
Vote for officials at all levels of government who believe that we need to take action, supported by our governments, schools, and communities to change how we fight climate change. This isn't just about elected officials at the federal level in the White House or Congress. Officials running for every level of office, including the school board, city council, county supervisor, or statewide offices can have an impact on how we create positive changes for the environment.  
Use the LWVUS toolkit for climate action to find additional ways that you can take action in your own communities. This toolkit provides action plans and resources that Leagues and League members can use to engage people in their community in taking steps to save energy and reduce their carbon footprint, work with their community to set emissions-reduction goals and then develop and implement a plan to achieve those goals, and build grassroots support for strong climate action at the state and federal levels. 
The League has supported environmental efforts over the last 50 years by urging government officials to support regulations and legislation to combat greenhouse gasses. And the work we do is not just national—our United Nations Observer Corps conducts policy work with international leaders. One of our key efforts includes supporting Sustainable Development Goals which are 17 interconnected goals and a roadmap for countries to adopt by 2030.  
There have been 50 years of reforms on the international, national, and local stages to protect the environment and fight climate change. From the Paris Climate Agreement to the adoption and enforcement of the Clean Air and Water Acts, to local protests and activism that stand up to big polluters—we can all be proud of the work we have done to defend the Earth. But, to keep our planet going for the next 50 years, we certainly can't stop now.
Sign Up For Email
Keep up with the League. Receive emails to your inbox!
Donate to support our work
to empower voters and defend democracy.