Every day, we're creating women's history. 
The League is fortunate enough to have been a part of women's political power for over 100 years, from the days of the suffragists to the first female Vice President. It's thrilling to imagine what victories we'll achieve in the next century – things that may seem impossible today but that we will advocate into reality. 
For now, our female staff reflects on what womanhood means to them, and how it has shaped both their lives and our democracy.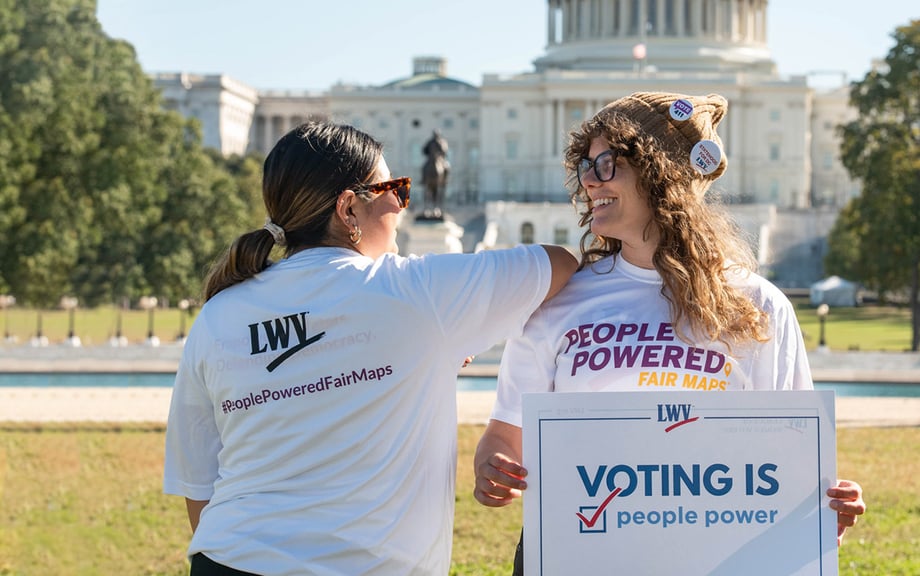 When you think of incredible women, who comes to mind?
Jessica Jones Capparell – Director of Government Affairs: I think of women who are fighting for justice and equality. Women like the USWNT soccer players who fought and won for equal pay, the women of the WNBA who fight for justice in our communities. And the women who came before them like Shirley Chisholm who fought for a seat at the table or brought her own if she couldn't get one that was already there. 
Alicia Gurrieri – Organizing Manager: The first woman who always comes to my mind is my mom. She had 4 kids within 5 years while becoming a doctor and now helps run a hospital in Atlantic City, NJ—navigating the frontlines of the COVID pandemic. Through it all, she always leads with love and generosity. 
Khadija Ali Amghaiab – Campaign Assistant: My mother. She's my constant reminder of what it means to know one's worth in the spaces I occupy as a woman. One simple but important lesson she taught me was never to let people get your name wrong—not all immigrants have the courage to correct people who misspell or mispronounce their names, but my mom is one of them. 
Christina Davis – Director of Trainings and Events: I think of women who work hard on behalf of their communities. In particular I think of women like Laura Cornelius Kellogg (Oneida), an early 20th century activist for a number of Native American issues including land rights, tribal sovereignty, and preservation of Native culture. She dedicated her life to being a voice for her people and traveled throughout the US and Europe campaigning for their rights.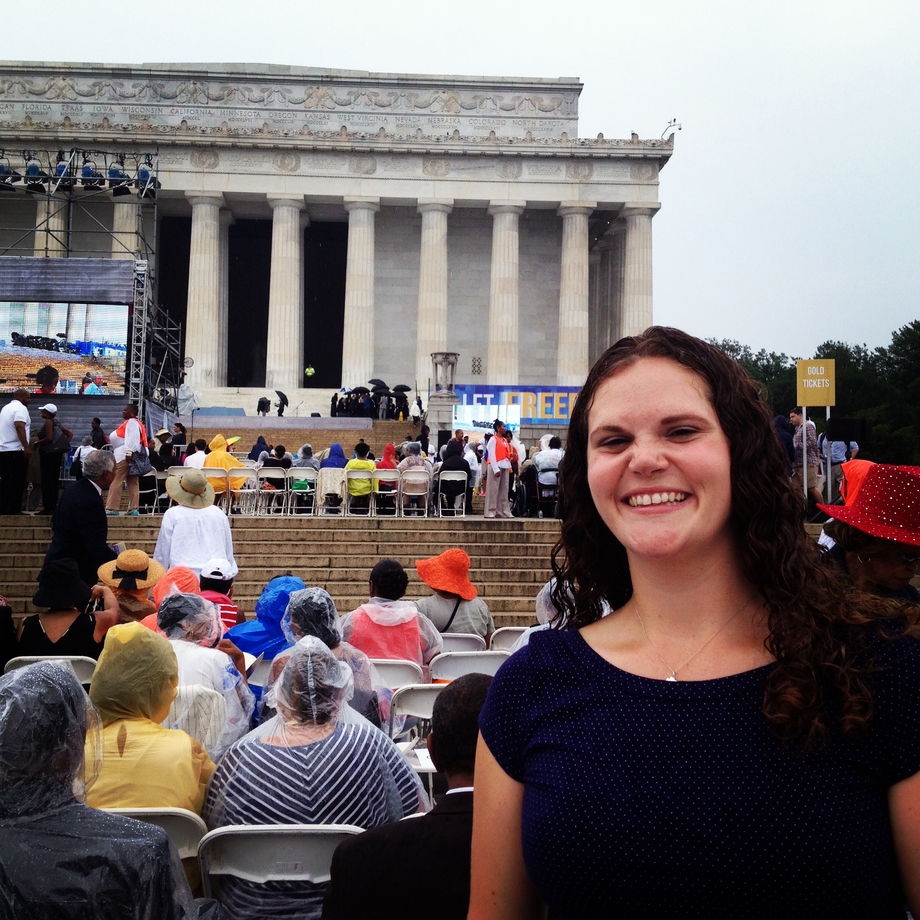 What is a challenge you've faced, personally or professionally, as a woman?
Maggie Bush – Program and Outreach Director: I think most successful women have had to politely sit through a longwinded lecture or "expert" opinion from a less qualified man. It never fails to disappoint.
CD: I felt challenged for a long time in how to be a professional version of myself. I internalized a lot of male-centered advice on proper work attire/conduct/networking/etc and felt trapped by it. As I've matured and been lucky enough to have a series of strong women leaders as bosses I've learned how much professional advice is steeped in the traditions of a male-dominated workforce and that we all benefit from bringing new dynamics and attitudes to work culture. 
Demand gender Equality in Our Constitution!
KA: A sure-fire way to demean a woman's work is by calling it "cute," and it happened once after I presented a paper where I cracked a joke. Then a guy came up to me afterward and told me my joke was cute, and it was as if the rest of my presentation didn't exist. A woman's hard work is not cute; it's admirable and to be respected.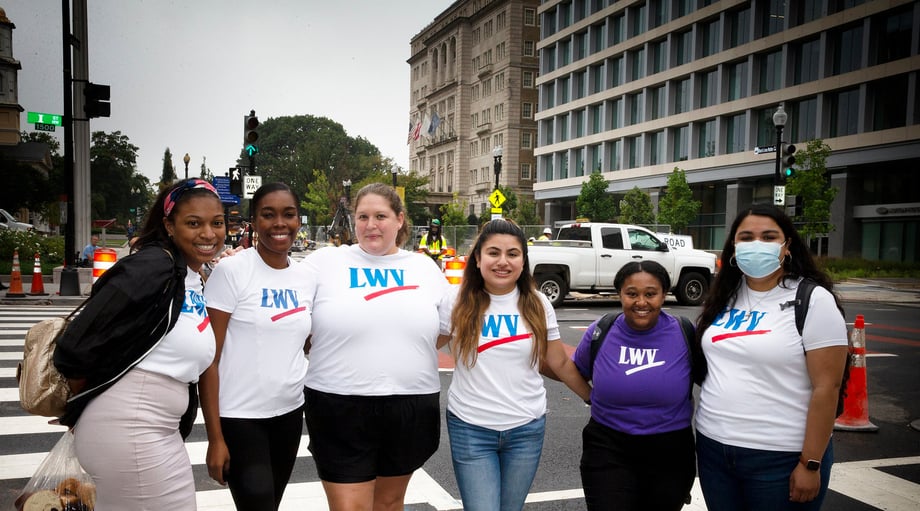 What is your favorite thing about the women in your life?
MB: Women get the tough work done and then look around to see how they can support others. We do it as moms, as friends, as colleagues. 
 
JJC: We don't let setbacks hold us back from achieving our end goals. I don't know a single woman who hasn't tried to turn a defeat into a victory or a next step for action in whatever fight they take on. We look at all avenues that will get us to our end goals and don't take no for an answer. 
CD: My favorite thing is that often fierce way women uplift each other. There is a great deal of joy to be found in working with a group of women towards a common goal and experiencing the ways in which we collectively come together and use our strengths to support each other and collectively achieve that goal.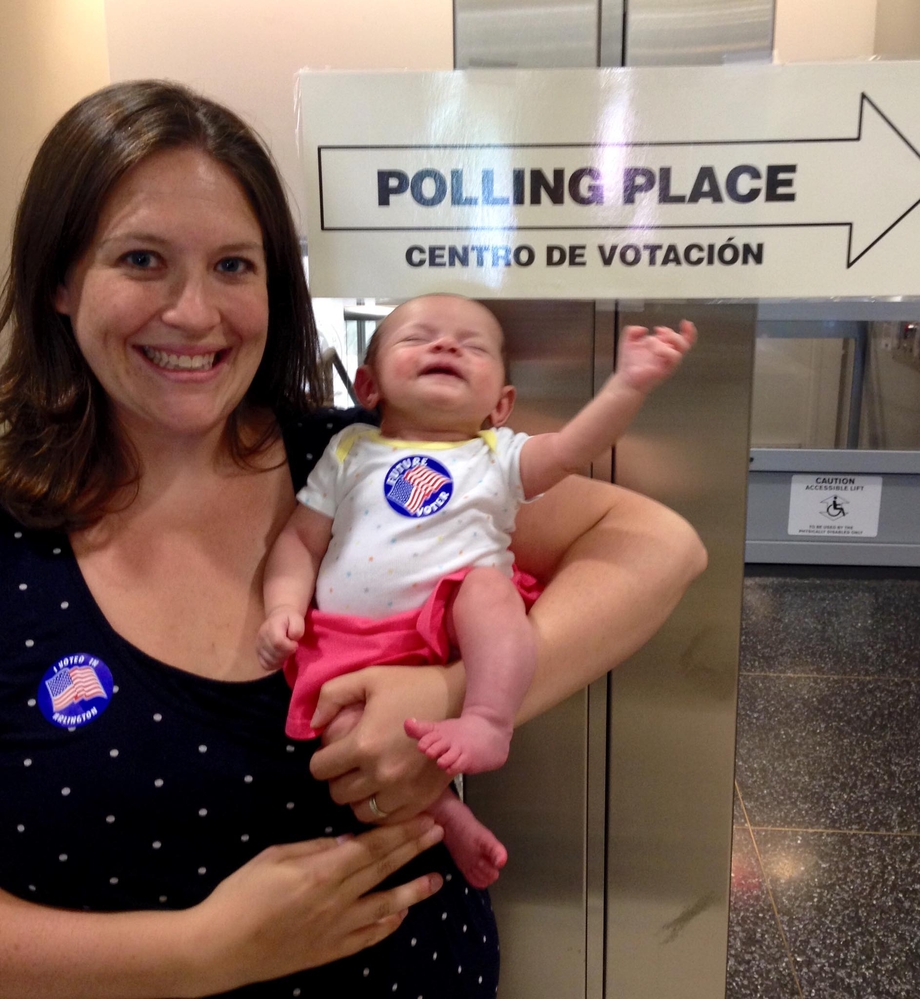 What role do you think women have played and/or will play in our democracy?
AG: Our Constitution was first crafted by white, land-owning men, who intended our democracy to only serve white, land-owning men. Like all the people and communities this initial doctrine excluded, women organized and have fought hard to lead and expand a democratic vision where more people have a voice at the table to ensure that those who are most impacted by issues can be the voice for change and drive solutions. 
KA: I think women play a moral voice in democracy, especially women of color. People who are served injustices are most familiar with what justice—and restorative justice especially—should look like, and I think in our democracy it's women of color. 
JJC: Women have always had a role in establishing our democracy, but more importantly they play a key role in expanding our democracy. From fighting for the right to vote until it was won in 1920, to expanding the right to vote for communities of color and protecting voters across the country from discriminatory intent in voting, women are leading the charge to ensure that everyone has the opportunity and the access they need to take part and use their voices in our democracy. 
The Latest from the League
On October 20, the League of Women Voters hosted a panel discussion on the state of democracy with four distinguished members of Congress. The panelists included Congresswomen Terri Sewell (AL-7), Jackie Speier (CA-14), Lauren Underwood (IL-14), and Nikema Williams (GA-5). Invitations were extended to Congresswomen from all parties. 
Test your knowledge of the 19th Amendment and learn more about the fight for women's suffrage in the U.S. with our interactive quiz!
"Now is the time to make our voices heard, to awaken the activist inside each of us, and the most powerful way to do that is to vo
Sign Up For Email
Keep up with the League. Receive emails to your inbox!
Donate to support our work
to empower voters and defend democracy.