2022 was a groundbreaking year in our democracy. 
We witnessed:
a midterm election where voters came out in droves to take a stand against anti-democracy extremists;
landmark Supreme Court decisions, including overturning the right to abortion.
the implementation of congressional maps that will define our election systems for the next decade; and
the appointment of the first Black woman to the Supreme Court. 
But that's just the tip of the iceberg. 
Through it all, you rallied, donated, wrote representatives, registered and educated voters, and voted to defend a democracy in which all voters can safely and fairly make their voices heard.
As I look back at 2022 here are some of the highlights I am reflecting on: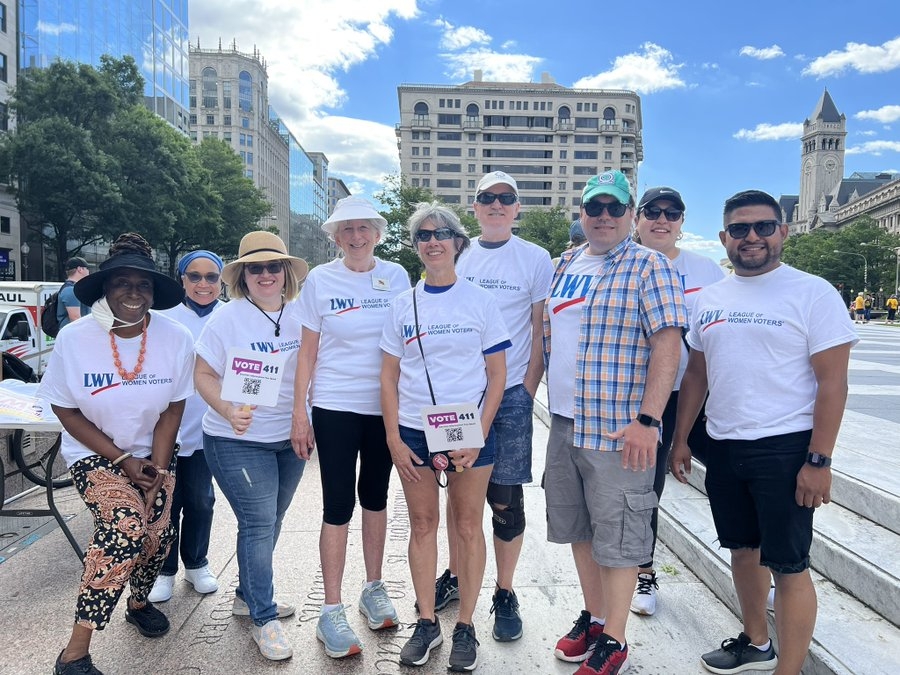 1. You Protected 17.7 Million Voters with Legal Action
With anti-voter laws on the rise in the wake of the 2020 election, you supported our work on legal cases to defend voters nationwide from discrimination, intimidation, and suppression.
In 2022 alone, LWV protected 17.7 million people through litigation, funded and spearheaded by local and state activists like you.
Voters from Arizona, Tennessee, Missouri, and more are among those whose freedom to vote was protected due to your grassroots efforts.
2. You Shared Voting Resources with 23+ Million People
Ahead of the contentious 2022 midterms, you ensured your communities had all the information they needed to vote.
You used voter education booths, social media posts, friendbanks, homemade videos, and more to make sure your friends and family knew how to register to vote, find their polling locations, learn about over 52k candidates, and get all the information they needed to make their voices heard with our one-stop-shop for voting resources, VOTE411.
Your work didn't stop with Election Day! You kept the spirit going even as the year came to a close by empowering Georgia voters during a memorable runoff election. Georgia League members in particular sent out 80,000+ postcards in English and Spanish so all voters knew about upcoming election deadlines.
3. You Demanded Sex and Gender Equity
On August 28, you raised your voices for #WomensInequalityDay, sending a message to elected officials that women and nonbinary people are strong and united in the fight for equality. Specifically, you insisted they restore reproductive freedom, certify the Equal Rights Amendment, and pass voting rights legislation empowering women to cast their ballots.
As we enter our first calendar year without the right to abortion in over 50 years, you continue to stand with our allies in the abortion rights movement through rallies, letters, and, of course, your votes. In 2023 and beyond, we will continue to let the world know that every person who can experience pregnancy deserves to control their own body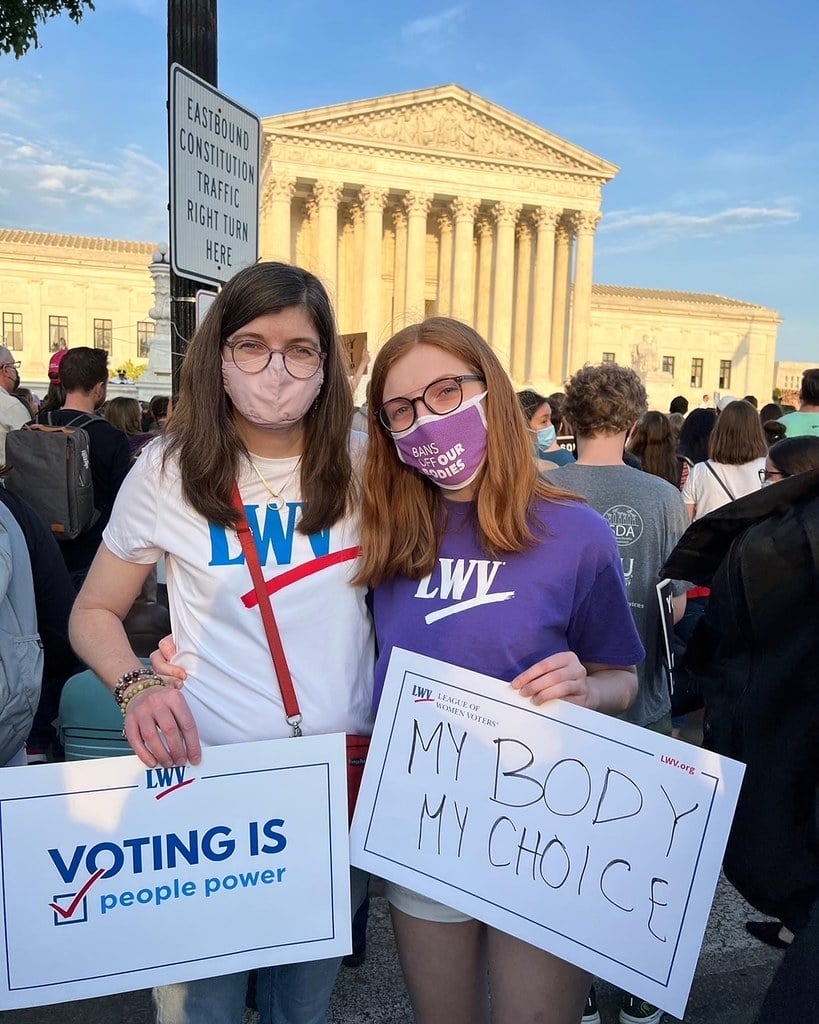 4. You Implemented Fair Congressional Maps
2022 marked the end of the most recent redistricting cycle, during which congressional maps were drawn based on US Census data. You organized through our People Powered Fair Maps™ (PPFM) campaign, whose first "season" ended this year, to get 2+ million people involved in the redistricting process.  
You drew new, fair maps in your states — 5 of which were implemented! You also supported us in challenging maps where politicians gerrymandered maps based on political party or racial identity. Overall, with your support, LWV filed 24 lawsuits against gerrymandering and organized public testimony hearings in 24 states. 
5. You Wrote Your Representatives 
You sent thousands of letters to your elected officials about issues like gun control, voting rights, dark money, and DC statehood. And it will take less than a minute to send more!
6. You Registered 140k+ Voters
Through digital and in-person events across the country, you empowered your friends and family to participate in our democracy.
With your support, local Leagues were able to reach more than 140k people, including people in high-opportunity populations like young folks, people of color, women, and new and returning citizens. 
By September 2022, League members and supporters hosted 900+ registration events at high schools and community colleges.
Leagues also hosted 600+ events at citizen naturalization ceremonies, registering 33.5k+ new citizens to vote!
7. You Campaigned for Greater Financial Transparency in Elections
You fought to make elections more transparent through legislation such as the DISCLOSE Act, which came before the Senate in 2022.
Nearly 10k of you wrote to your representatives supporting the DISCLOSE Act, and you tuned in when LWV's CEO Virginia Kase Solomón testified on the bill before the US Senate Committee on Rules and Administration.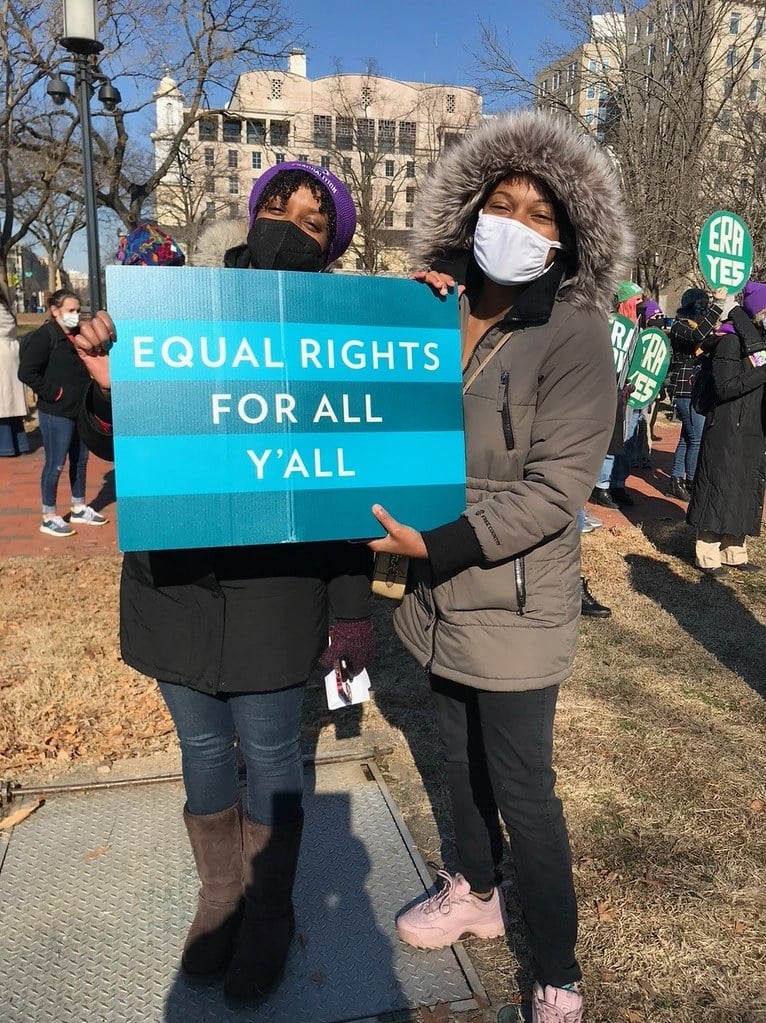 8. You Learned More About SCOTUS Rulings, Election Laws, and More
In a year filled with legal-ese and complex political strategy, you stayed informed.
You read our blogs explaining recent bills, SCOTUS cases, election challenges, and more nearly 250k times. You were particularly interested in reading about SCOTUS's rulings on gun control and abortion, the rules of runoff elections, and how reproductive rights are essential in an equal nation.
9. You Showed the Power of the South
LWV had the pleasure of touring states across the South and witnessing the organizing power of activists in these high-energy states! LWV members and supporters from Tennessee, Alabama, Louisiana, and Mississippi held trainings focused on advancing voting rights in the disability community, getting out the vote, supporting climate protection efforts and reproductive rights, and more.
Our tour will continue in 2023 with dates and locations to be determined.
10. You Rallied for #PeopleOverPolitics
On December 7, as SCOTUS heard oral arguments for Moore v. Harper, you braved the rain and cold to defend people over politics. 
Moore v. Harper is a case that could change our democracy forever, allowing certain state legislatures to move without the checks and balances that make our government fair. If passed, it would create a confusing and chaotic electoral system that allows politicians to pick their voters rather than the other way around.
As we await a decision in the summer of 2023, we'll continue to post opportunities to take action and defend our democracy.
11. You Cast Your Ballots in Defense of Democracy
In the face of mis- and disinformation, poll worker shortages, and anti-voter efforts, you went to the polls (more than once, for those who had runoff elections) and stood up for a fair and representative government.
We are living in trying times, no doubt. But by voting, you gave us all hope that our democracy can grow even stronger and that we can continue to build a nation that inspires and includes us all.
Thank you for your support and activism this year. It has been my honor to do this work alongside you, and I look forward to doing even more in 2023.
The Latest from the League
Despite anti-voter laws, mis- and disinformation, election deniers, and poll worker shortages, the American voters showed up to cast their ballots and make their voices heard.  
This is in no small part thanks to Leagues across the country, who worked tirelessly to empower voters during this pivotal midterm season.
The following is a snapshot of LWV's impact in the 2022 midterm elections as of November 10, 2022. A complete impact report will be added to this page at a future date.
In September 2019, the League launched its national redistricting effort People Powered Fair Maps™ (PPFM).
PPFM aimed to create greater transparency, fairness, and public participation in the redistricting process, which determines voting access, partisan representation, and federal funding for communities across the country. 
August 26, otherwise known as Women's Equality Day, marks the anniversary of the passage of the 19th amendment.
Yet today, fewer rights than they'd had in decades. In August 2022, we launched our campaign for Women's Inequality Day, uniting to demand that lawmakers restore and protect our rights.
Sign Up For Email
Keep up with the League. Receive emails to your inbox!
Donate to support our work
to empower voters and defend democracy.